Principal's News
Prayer for Reconciliation

In the midst of conflict and a vision we know it is you

who turns our minds to thoughts of peace.

Your spirit changes our hearts:

Enemies begin to talk to one another,

those who are estranged join hands in friendship,

And nations seek the way of peace together. 

Let your spirit be at work in us.

Give us understanding and put an end to strife

Fill us with mercy and overcome our denial.

Grant us wisdom and teach us to learn

From the people of the land.

Call us to justice.

Amen.
Brigidine College Sorry Day Commemoration
Our Sorry Day Commemoration liturgy last week has been followed with Reconciliation Week. This is a special opportunity to acknowledge the Traditional Owners of the land, the Turribal and Jagera peoples, on which we gathered to pay our respects to Elders both past and present.
'As Brigidines, we stand in reverence for the community of life. And we will continue to work to further compassion and justice for humanity and for the earth'
(2001 Congregational Forum)
We are fortunate that our community shares in an opportunity for peace and healing to be present so that our interconnectedness through the spirit of St Brigid and our wider Australian community might be part of our everyday life.
We celebrate the giftedness of our Indigenous sisters and brothers, and together we can reflect on our past, forge links with the present and provide for ongoing connections into the future. Many thanks to Mr Andrew Beiers, Dean Faith and Mission, as well as the indigenous and student leaders for their wonderful leadership and care here at Brigidine and with our local community at Sherwood.
https://ulurustatement.org/the-statement/view-the-statement/
Brendan Cahill
Dean of Faith and Formation
Over the last two weeks, Brigidine College has commemorated Reconciliation Week.
This began last Friday with Sorry Day on 26 May. 
Elder Uncle Joe Kirk and Aunty Margaret Riley shared their insights and wisdom about the complex nature of reconciliation and apology in the Australian landscape. They explained how difficult the journey has been and how proud they are of the engagement of Brigidine students on this journey.
Uncle Joe is also a member of the Reconciliation Action Plan Committee along with Murri Ministries CEO Ravina Waldren.
Reconciliation Week opened on 27 May with the anniversary of the 1967 referendum.  
Students participated in Home Room, learning about Reconciliation Week, and they designed images of solidarity on our hands of connection, which were placed on the Holy Lawn.
Reconciliation Week concludes with Mabo Day on 3 June.
Mr Andrew Beiers 
Dean of Faith and Formation
---
Vinnies Winter Appeal
Our winter appeal kicked off this week with baskets in place in all home rooms. We have two weeks to collect groceries for families in need. Please donate what you can. If we all donate a little, it's a LOT.
During the last week of term we'll collect up the donations and take them to the Inala Vinnies Family Centre. This will be part of the Vinnies Road Trip on Monday June 19, the first day of the holidays. Vinnies members look forward to this day. We drop off the groceries, help the elderly volunteers store them in their pantry. The volunteers tell us about their work and way in which we can help. Next we have a picnic at Rocks Riverside Park. Then it is on to the Middle Park Vinnies shop where we meet the Manager  and hear about how they sort donations, price them and send them out to stores. Then there is the opportunity to shop – something for everyone at Vinnies!
Come along to our Tuesday  lunchtime meetings any time.
Chloe West 
---
Japanese Exchange students coming soon!
Would your family be interested in hosting a Japanese Exchange student – opportunities for either one or five week host opportunities. Students will be visiting from our sister school, Kamakura Women's University High School. Please reach out to Nathan and Sachiko with any questions – text 0414 702 402 or email: info@thegsi.com.au 'Brigidine" together with your name and email address and they will provide more information.
---
What's Coming Up?
Saturday 3 June 2023 – KOKODA CHALLENGE
Our seven teams are up for the Challenge – 30 and 18km around Mt Cootha. It's a 9am start from the Brookfield Reserve and they are off and running. We hear that Miss Tobiano's team really will be running. Miss T has an event on that night and needs to be back before sundown. As we overheard her say to the team: "Think of her as Princess Fiona in Shrek, under a curse that transforms her into an ogre at night fall."  Walking or running, we're looking forward to it. The training has been great as keeping fit and being part of a team is all part of wellbeing. Onwards!
Rosie Scott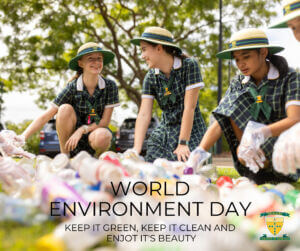 ---
Monday 5 June 2023 – World Environment Day including the famous Suitcase Rummage Stall!
It was such fun last year that we are doing it again. It's a great way to recycle textiles, get something new and all for $2. Proceeds to Vinnies and RSPCA, what's not to like ? Everyone is invited to donate clothing they are no longer wearing, doesn't fit any more, or wonder why you bought it in the first place …. There is some of this in everyone's cupboard. Drop off donations at DU4 and come along on Monday to shop. Cash or card, but cash is quicker. One gals trash is another's treasure.
Ava : Can we have a preview and snap up the best stuff ?
Vina: Nope, everyone waits till Monday.
Ava: There is a leather jacket with tassels, just my size in the pile …
Vina: Well …… ok, it can be on apro for you.
Ava: Yea, really looking forward to my first Environment Day. I'm on the baby animal stall, queue control and clean up. I love animals, even the cleaning up!
All left over garments will be taken to the Middle Park Vinnies.
Alvina Savy and Ava Knox
---
Monday 5 June 2023 – Year 8 Business studies International Day of Friendship Trade stall
The Year 8 Business assessment for Term 2 focuses on creating a business and the planning associated with it, including a Business Plan. The brief for the creation of the product and business is – The International Day of Friendship. Students researched their target market and sought products in line with their needs and wants. Next Monday 5 June 2023, at morning tea on the Curragh, the Year 8's will conduct a Trade Stall to market their products. The final selling day will be morning tea, on the Curragh Thursday 8 June 2023. Products range from $9.00 to $12.00. Both cash and card sales will be accepted.
See you there!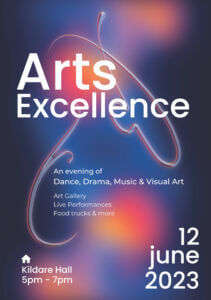 ---
Monday 12 June 2023 – Brigidine College Arts Excellence Evening – 5-7pm
Brigidine College Arts Excellence Evening is an opportunity for students of Dance, Drama, Music, and Visual Art to showcase their Semester 1 work to the wider Brigidine community. The evening will feature student performances and a gallery display of artwork. We would greatly appreciate your attendance and support in celebrating the achievements of our Arts students at this event.