Principal's News
Living God, draw us into unity

Creator of all things, both seen and unseen, speak to us in your great wisdom.

Make us strong as we seek your help and guidance.

Teach us to love all people regardless of race or colour or belief.

May we listen with great care to the heartbeat of this land

and to its people who cared for it so well and for so long.

May the peace these people and their land have always enjoyed continuing to be strengthened and preserved by all who wish to come and be part of this country and its 'Ancient Dreaming'.

Glory to you, God of Life, Creating, nurturing, reconciling.

Glory to you forever.
Through 'Discovering New Horizons' during this time, we aim to also foster community and creativity across our College.
'Faith as a communal activity, to rekindle what it is that brings us together, what assist us to work together and share in the common good.' Whether this be through historical 'principles of community' or a recognition of dignity and gifts from the spirit are encountered through inclusion and not fear.' Professor Colleen Griffith, 2016
'The grace of movement through creative expressions and critical thinking, as a community. Experiential opportunities allow people to play and give the spirit life. For people to identify who they are, not just an expression of what we might think we might be.' Courtney Otto, 2016
Through experiencing joy with the spirituality of God, there is a greater connection, a deeper sense of gratitude and inner strength to be more explicit about my faith. To enjoy the fruits of the spirit, where joy, love, peace, patience, kindness, faithfulness and gentleness resides is particularly heartening. "Goodness always tends to spread. Every authentic experience of truth and goodness seeks by its very nature to grow within us and become more sensitive to the needs of others. As it expands, goodness takes root and develops. If we wish to lead a dignified and fulfilling life, we have to reach out to others and seek their good." Pope Francis
As the College prepares for Brigidine Day, there are opportunities to reflect on those that that have gone before us. Whether it be Bishop Daniel Delany in 19th Century Ireland or Mother Brigid Foley in 1929 (first principal of Brigidine College), there is always many things to be grateful.
As a community we have been blessed with thousands of people form the Brigidine Sisters, teachers, students and families who have contributed to a grace filled school, built on Gospel values and the teachings of Jesus Christ. Brigidine Day calls us to acknowledge the past, accept our present and lay foundations for a possible future.
When we listen fully to someone, you are more likely to find out what they need. We will then be able to help them more effectively.' (Ryan, T. 2003)
As the College takes time to rest and reflect on some many opportunities, I invite our students and families to also take some time to reflect on the learning opportunities, ways to engage and how each of us continue to provide for others when we return in July.
With the sad news of John Crawford's passing, I wish to acknowledge him as an outstanding teacher, a spirt-filled mentor and exceptional leader of Maths and Senior School during his service to the Brigidine Community from 2008 until 2021. It is with heartfelt gratitude and thanks, that our community walks with John's family, as he is laid to rest on Friday 23 June, from Holy Family Church at 10.30am. Following the service all attendees are invited to a morning tea at Brigidine College on the College Curragh.
'May Eternal Rest grant to him O Lord, and may perpetual light shine upon him.
May he rest in Peace.' Amen
Thank you to all member of our community for your ongoing support for our teachers and staff and I look forward to sharing a great range of initiatives next term.
God Bless and Safe Travels
Brendan Cahill
A message from the Deputy Principal and Dean of Student Formation
Term 2 has shown what an amazing community Brigidine College is. From College Open Day in Week 1 where we showcased to the broader community all that Brigidine stands for, values and encourages to Spirit Cup Volleyball versus Ambrose Tracy College, Year 8 Kokoda Mt Coo-tha Challenge Day,  7 teams completing the Brookfield Kokoda Challenge, Year 11 Leadership Twilight, Environment Day, Year 10 Careers Day, Book Week and various Sporting, Mission and Arts events, to the day-to-day learning, assessment and interactions we share. Finally Brigidine Day, an important community day that rounds out semester one and is an important day on our calendar each year. It has certainly been a busy yet rewarding term.
Brigidine Day sees our College community come together and celebrate our wonderful community, a community that often in the busy nature of the term we can sometimes take for granted.  As so aptly expressed by our College Captains , Abbey, Molly, Indiana and Kelly  during their gospel reflection at Brigidine Day Mass, the captains called us to not wait. "Don't wait. Don't wait to be given an opportunity to tell someone you're grateful for them. Don't wait for the most perfect moment; have the courage to tell them now. As in the gospel reading Bartimaeus called out to Jesus, we challenge you to go up to someone today and let them know how much they mean to you. Remind them of their worth and the value they have in your life. So, if there's anything you take away from this reflection, let it be to try your hardest to open your eyes to the beauty of life and all that we have to be grateful for. Life is so full.  And as the wise old turtle from Kung Fu Panda once said, "yesterday is history, tomorrow is a mystery, and today is a gift, that is why it's called the present."
We wish everyone a restful break and look forward to semester two with joy and gratitude.
Ms Melissa Dever and Ms Dani Sprenger  
Deputy Principal and Dean of Formation
---
Book Week review
Brigidine College's 2023 Book Week celebrations were a terrific opportunity to take a moment to reflect on the important role that reading and writing have in our lives, and to appreciate the people who create the wonderful stories we all enjoy. To celebrate all things reading and writing, the Brigidine College library team organised a series of workshops and activities to engage students across the college.  We had visits from the children's author Zanni Louise, who presented several workshops on creating picture books and writing narratives, and slam poet Angela Peita, who performed her amazing poetry on Assembly and inspired some of our Year 12 students with a poetry workshop.
Students also got into the spirit of things with their fabulous Book Week costumes, which is always a bit of fun, and the week also saw the launch of our first Parent and Child Book Club.
The library had a myriad of competitions running, and we particularly wish to congratulate Francesca Figueroa, who won the Middle School section of our "Creative Response to the Book Week Theme" competition for her excellent story about a magical library, and Lucy Egan, who won the Senior School section for her beautifully touching story "What did I do?".
A big thank you to Ms Estelle Chapman, Mrs Linda Hughes, Mrs Andrea Antcliff and Miss Zoe Stephens for all their work during the library's biggest week of the year!
Ms Sarah McCallan
Library Program Leader
---
World Environment Day!
On Monday, June 5, our Environment Club hosted World Environment Day, it was an absolute blast! As members of the Environment Club, we spent weeks preparing and organising our individual stall ideas.
We had the classic petting zoo, suitcase rummage, and bake sale – but it was also great to see students thinking outside the box to create something that they're passionate about! One of Brigidine's lovely Year 12s, Maya Pianta, even brought her own plant propagations and pots to sell – sustainable, and for a great cause. A few of the Year 11s also had a fun stall about ocean pollution awareness, creating a game out of cleaning up rubbish commonly thrown away. While it's a heavy topic, its important to create environments where learning is easy and approachable, especially for the younger students.
Images courtesy of the Brigidine Digital Spirit Squad
We at the Environment Club take our 'green' theme very seriously: we had face painting, flower crowns, and potting tutorials. And thanks to a senior student's family recipe, we had veggie burgers on the Curragh, the Year 11s were cooking up a storm! The burgers were delicious, and totally free! The Year 7s also encouraged sustainability, we all brought our own mugs to drink from their hot chocolate stand.
In addition, we were able to host students from Holy Family! It's great connecting with some of the younger students, and they certainly enjoyed all the fun activities we had prepared for them.
Overall, we were able to raise over $450 in funds, which will be donated to a charity voted on by the Environment Club; although, the day was really about spreading awareness and encouraging sustainability in the college and cohort.
Gemma Matthews & Caitlin Hanlon
---
Vinnies Winter Appeal Wraps Up
The boxes have been in Home Rooms for 2 weeks and now we have gathered them up. A big thank you to all the students and families who donated. If we all give a little it is a lot.
Next week we will participate in the Vinnies Road Trip to drop off the donations at the Inala Vinnies Family Centre. We'll help the volunteers arrange the goods in their pantry. When families come for help, they invite them in to select what they need, so nothing is wasted. Then it will be on to a picnic together in Rocks Riverside Park. After refreshments we go on to the Vinnies warehouse at Sumner Park. The manager will show us round the enormous store area and talk about sorting donations, pricing and sales. Then we get a chance to do a bit of thrifting. I went on the trip last year and it was fun, and good to see the project through to the end.
Jess Persich
---
Environment Club
This week we heard about carbon trading, growing Spekboom plants, known as Lucky Jade in Australia. Before moving to Australia and being our Physics teacher here at Brigidine Mrs Holtz worked for 10 years on a project that worked with organisations who wished to pay for the planting of vegetation to offset their carbon use. The project used the Spekboom plant, a succulent native to South Africa.
This plant helps to remove carbon dioxide from the atmosphere by acting like a carbon sponge, improving the quality of air we breathe. Spekboom can absorb between four to ten tonnes of carbon per hectare. Mrs Holtz explained that Spekboom's capacity to offset harmful carbon emissions is compared to that of moist, subtropical forests. This remarkable plant is unique in that it stores solar energy to perform photosynthesis at night. This makes a Spekboom thicket 10 times more effective per hectare at carbon fixing than any tropical rainforest. Excess carbon in the air is responsible for global warming.
The project involved devising the best way to propagate the plant, measuring its carbon absorption, providing much needed employment in the local community and keeping the goats away from the plants. Goats love Spekboom!
This talk showed us that science jobs can really make a difference. Thank you Mrs Holtz.
Chloe West
---
What's Coming Up over the school holidays?
Friday 23 June 2023 – Brookfield Bar Family Fun evening
For an end of school celebration as one to remember, come along to the Brookfield Bar from 4pm on Friday 23 June, where everyone is welcome at 550 Brookfield Rd. Walk through main Colquhoun Showground gates.
5:30pm: Roving Circus Performer will delight us with angel wings, fans and hula hoops!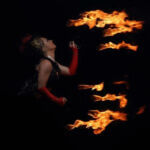 6:15pm: To heat things up, be wowed by a table top fire show, combining dance, flaming fire props and sparkle effects!
Food vendors will offer delicious tucker, such as pasta from Sorella & Co, loaded potatoes from The SpudWagon and gluten free donuts from OMG Decadent Donuts.
Plenty of space for children to run around in what is a family friendly atmosphere, complete with live tunes to add even more festive mood.
For adults wanting to learn some painting tips and come away with their own masterpiece, join renowned local artist Di Kelly as she hosts a paint 'n sip boutique art class, teaching how to paint "Whistler". A Winter special where you'll feel you can ski right off your canvas! Perfect class for beginners. $85, from 6:30-8:30pm. Limited seats. Text Di: 0458 999 049 to book, with full name and email.
Saturday 24 June 2023 – Chased by Rainbows stage production
Blue Roo Theatre's new, family-friendly production Chased by Rainbows is hitting the stage. Blue Roo is an independent theatre company proudly providing an essential link between the disability community, the performing arts sector and the broader community.
Our performers and crew all live with disability and develop their narrative, performance and stagecraft skills by working with highly experienced and respected Queensland independent professional artists, musicians and directors. Blue Roo performers are inspirational role models for their peers and audiences of all ages and ability.
Blue Roo changes lives.
Where: The Lavalla Centre Hall, 58 Fernberg Rd, Paddington, 4064.
Cost: $11 Concession, $14 General Admission.
To view event information and book tickets, click here.
Chased by Rainbows is the much-awaited sequel to 2022's Chasing Rainbows and will be touring to regional schools and communities in July.
Our hilarious and fearless band of unique heroes race to save the world from impending disaster. Will they succeed?  Hold your breath!!
Chased By Rainbows is an original high melodrama devised and performed by the Blue Roo Theatre Company's ensemble. With an original script, original music that rocks the room and a WHOLE LOT OF FUN for all ages!
The ensemble will have you in stitches as they weave together the story of a fearless band of unique heroes, a race to save the world from impending disaster, and redemption. Will they succeed?
Join us in this new interactive, whacky family-friendly adventure to find out!
Note: Channel 9 will be filming at this show as part of  their 'My Way' television series featuring the Blue Roo Theatre Company in Season 7.
Week Beginning 26 June 2023 – Speak Up Studio Holiday Drama workshops
Speak Up Studio is hosting holiday drama workshops for secondary students (Years 7 -12) , interested in advancing their drama knowledge and skills, while having fun and making friends.
The workshops are run by expert teachers, and there's three to choose from; Shakespeare, Dance for Drama Kids & Play Making. They are happening June 26 – 30 at their studio in Spring Hill.
Book online here or call 07 3367 8572 if you have any questions.