From the Principal
Jesus, teach us to follow your way of confidence and trust.

Open our eyes to see God's love ablaze in the beauty of a single flower and found in the simplest acts of charity, such as a smile and a kind word.

May we radiate joy and gladness that comes from knowing as you did that everything is grace.

Amen
College Assembly
In many ways today I begin with the privilege of sharing my voice to our community.
Last week in my class, I was introducing the notion that God or an ultimate source of being is central to all religious traditions, whether indigenous or from a western tradition.
"A god exists who created and ordered the world and watches over human life on earth."
Whether a person might believe in God or another source of being, like creation or the environment is one thing, but the key for many people, is that we engage in the university of ideas and the larger questions of existence. In sharing these theological and ethical notions, we discover difference and complexity that shapes our understanding and wisdom to identify our place in our world.
To be part of this discovery of understanding is to firstly have a voice. Having a Voice implies an ability to listen to others in the exchange ideas and have agency in the discussion. In other words, students and staff at Brigidine College are invited to be part of the exchange of ideas with the respect and dignity shared to all. If each of us have something to share, then we respect diverse and opposing views, by taking time to listen and share.
Brigidine College accepts the understanding that students and staff have a Voice that is critical to ongoing dialogue to move forward for our community.
This Voice at Brigidine might be expressed through Suspend Judgement, ANZAC Day Commemorations, Youth Parliaments or as Captains and Leaders at the College. The critical factor is that all of us have a place or agency in this this process. We share in a passion to care through St Vinnies, through the Environment Club, RUOK Days and many other groups to encourage each of us to be the voice for those who cannot be heard.
Recently, the Kildare Ministries Trustees have shared across our schools that we were disappointed with the result of the recent referendum on The Voice to approve Constitutional Recognition to Aboriginal and Torres Strait Islander people.
'In rejecting the Voice a few weeks ago, we like the rest of Australia continue to exchange ways and ideas that support the journey of First Nations recognition in our country. We therefore, pledge to listen, reach out and learn what First Nations Peoples in our society want to support the quest for a better life through education and civic collaboration; through truth telling and Makarrata – healing the wrongs of the past, so that we might be a stronger nation living in peace.'
We will remain alert to possibilities that present themselves in continuing the journey towards reconciliation.
Over 200 years ago, Daniel Delany said
Do everything in a spirit of holy love and you will not find your hands empty at journey's end.
By performing the ordinary duties of your day well you will perfect yourself, and your day will be full of merit and good works.
Through listening and sharing we continue to the ordinary things extremely well.
Brendan Cahill
Principal
---
Study tips and tricks from our 2024 Academic Ambassadors
Hi! We are your Academic Ambassadors for 2024.
Our names are Georgia and Elise – we are both from Mackillop house (the best house) and love music!
We are also really passionate about learning and promoting a supportive learning environment. Speaking of learning, we'd like to share some tips on how to prepare and study for exams.
In all honesty, neither of us have a solid study plan. And what works for us, probably won't work for you – and that's okay! Regardless, we are sharing some of our top tips:
Elise's tips:
ALWAYS ask questions in class– even if you think it's a silly question (because it probably isn't)
Do 1% improvement effort every day. I personally don't study for more than an hour every day, but I prioritise quality study that will ultimately add up over time.
Don't take it too seriously. Yes, school matters. But it's important to continue to do the things that fill your cup as well – this also helps to avoid burn out!
Georgia's tips:
Don't put things off; don't procrastinate. Yes, I do it as well, watching tv or scrolling seems more interesting. But by doing your homework now, your future self will thank you.
Make a routine and stick to it. By staying consistent a good routine will stick. Start with something small (for example reading before going to bed) and build your way up.
SLEEP. You've probably heard this a thousand times. But sleep is so important in being able to function, learn and retain information the next day. Learning will be harder when you are tired.
Best of luck with your Term 4 assessments!
Elise Gordon and Georgia Lovisa
---
Vinnies de Formal with ATC
This was a social event for our Year 10's. It is linked with St Vincent de Paul – to raise money for Vinnies, have fun and make friends.
The first stage was the Vinnies Youth Service coming to both schools with Pop Up Shops. The entry fee for the event was $20 and for that you got to choose a wacky outfit to wear. Emphasis was on wild, informal and fun. This sort of shopping also encourages the students to shop at Vinnies regularly – you just never know what you will find at a fraction of the price of new garments.
After school on Wednesday 26 October  the girls changed quickly and we took the river walk to ATC. We're walking !!!!! said some of us. Miss observed that she was 50 years older than us and she was walking. Miss Tobiano set a good pace and we all got our steps up.
ATC welcomed us with a yummy afternoon tea and then it was on to speed meeting and then teams for trivia. We met lots of new friends and then shared pizza. Vinnies thanked us for the funds raised and invited us to volunteer at their shops.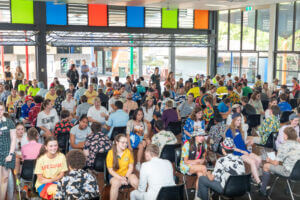 The event ended with dancing and then we each did our school's war cry. It was the best.
Thank you to the teachers who came along with us. We hope you had fun too.
Alex John and Giorgia Nodari
---
Bye Bye Birdies…
Our white rooster named Egg was probably thinking "What's going to happen to me ?" Once we were sure that two of our chickens were roosters – Egg and Peter Chanel, it was time for them to move to a new home on a farm.  They look like roosters and started to crow and fight. Last week, they moved to their new home at City Chicks at Samford. It was a privilege to look after them. Now we just have our three girls – Dorothy, AB and Bubbles. Time to lay some eggs girls!
---
Mission in action
We're all having fun and looking forward to Mission leading up to Christmas. Come along to Vinnies and join in!
---
Centenary Motorway Masterplan
The Department of Transport and Main Roads (TMR) is developing a masterplan for upgrade options for the Centenary Motorway between Darra and Toowong.  Phase 1 Community Consultation was undertaken earlier this year and the summary report is here.
Centenary Motorway planning | Department of Transport and Main Roads (tmr.qld.gov.au)
TMR is working to finalise draft masterplan options and once complete, details regarding the timing for the next phase of community consultation for the project will be provided. This is expected to occur early 2024.