Principal's News
Prayer

Lord the Giver of Life,

Help us to value each person, created in love by you.

In your mercy, guide and assist our efforts, to promote the dignity and value of all human life.

Bless us the courage to defend all life.

Bless us with the strength to respect all people, so that we may truly follow the call of Jesus to be neighbour to others.

May we answer your call to treat al as we wish to be treated and to promote the healing of all, especially those most vulnerable.

We ask this in the name of Jesus.

Amen
ANZAC Day 2023
The Brigidine College is due to commemorate the Spirit of ANZAC in our community next week. Understanding the importance of Anzac Day within the national calendar is for many people a critical time to reflect and give thanks for the many opportunities we have as nation.
Our community is reminded of the difficulties placed on all of us through war and how through prayer and dialogue we are a 'hopeful' people searching and working for peace. As the risen Christ said to the apostles 'peace be with you' to them as they tried to understand what their lives would hold following the events over Easter. Our community works for peace in our relationships, in our learning and how we continue to be an inclusive school for all.
Anzac Day for many of us, provides a glimpse into what might be described as the 'Spirit of Australia.' Let us continue to share our story with everyone we encounter on our journey.
The college will again participate in the local community commemorations held at the Sherwood-Indooroopilly Sub-branch Dawn Service at Corinda and the ceremony at Keating Park, Indooroopilly at 7.30am. With representatives from the College's Cantare Choir and our senior Student leadership group, I invite as many students as possible to join us in a poignant moment for all of us to share.
They shall not grow old, as we who are left grow old;

Age shall not weary them, nor the years condemn.

At the going down of the sun and in the morning

We will remember them.

Lest we forget.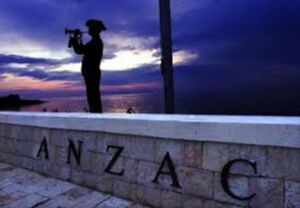 Student Engagement
As we enter a new term, I trust that we begin refreshed and ready to engage fully in the experiences offer here at Brigidine. We remain vigilant to our health and continue to take care with our physical and mental wellbeing.
I look forward to the full range of college events and pray that students, staff and families continue to embrace these opportunities. While I have reminded students of taking care with the wearing of their uniforms and their engagement in healthy relationships, I am impressed with the many, many ways in which students represent the College with pride.
I look forward to sharing in the Sporting matches, the Arts events and Mission opportunities for the students.
Thank you to the Parents and Friends Association for their wonderful organisation for the upcoming Mother Daughter High Tea, the Brookfield Show and the Moggill Marathon later in May. It is wonderful to witness the care and engagement in a range of events.
In Fortiter et Sauviter
Brendan Cahill
Principal
---
News from our Walking for Wellbeing group!
25 girls, 3 staff and one dog!
This was our first Walking for Wellbeing for Term 2. Join us any Thursday morning 7 am at the pool for a one hour walk with friends.
This week it was at Holly's suggestion that we walked over the Indooroopilly bridge and on to the Gordon Thompson Park on Oxley Road. There is shaded playground equipment and a bubbler there – a good halfway break opportunity. It was accessed through some rather long and wet grass, but we forged ahead.
With us this week was Frankie Ellice and her owner Year 11 Bridie Ellice. It's fun to walk with dogs, they enjoy it too. Did Frankie then stay at school all day? Sadly no, she went home with big sister, Maddie Ellice who had been at school early to coach netball. It was Maddie, as 2022 Sports Captain, who started the walking program last year. Good to see her at school again!
---
What's Coming Up?
22 April 2023 – Dreamers Open Day
23 April 2023 – Brigidine College Open Day
Thank you to all the members of our community who have volunteered to welcome prospective families to the College on Sunday. We appreciate your support and look forward to a fun day showcasing the spirit of Brigidine.
27 April 2023 – Fr Frank Brennan SJ Book Launch
Fr Frank Brennan SJ has recently published a book titled  "
An Indigenous Voice to Parliament – Considering a constitutional bridge
". Fr Brennan will be at St Ignatius Church on
Thursday 27 April
in the evening, to speak on the topic.This a free event—no booking required. All are welcome. Books are available for purchase through St Ignatius Parish at the discounted price of $20 per copy at the event – cash only.
Prior to 27th April
, Order and pay online via parish website, go to
https://rebrand.ly/q9jq49j
For purchase of 5 or more copies please contact the parish office for alternate payment options. Enquiries: email
toowong@bne.catholic.net.au
or phone 3870 7818.
Save the date – Moggill Marathon – 21 May 2023!
The Moggill Marathon 2023 event is shaping up nicely and Early Bird entries are open offering a 10% discount for a limited time only.
In the 5k event, we are offering one prize of $500, for the school or community club with the highest number of entries finishing the race in UNDER 28 minutes.
In the 2k event, we are offering one prize of $250 for the primary school with the most competitors.
It's a great way to get your school active and have something to aim for in 2023. If you can promote this within school communications, newsletters and social media, that would be great. We have attached an image you can use and the link to register is here:
Complete either a half marathon, 10km, 5km or 2km fun run.
The routes will take in the beautiful scenery of the Moggill area, located in the Western Suburbs of Brisbane.
Whether you choose to walk or run, the 
Poolwerx Moggill Marathon,
there is something for everyone. The event will be a huge amount of fun and bring excitement and support for many great causes on the day. For more information, please click on the
Moggill Marathon Poster
.