Principal's News
God of Grace and Holiness, Send upon us today your Holy Spirit

Spirit of God, Let your wisdom shine upon us

Spirit of Silence, Make us aware of God's presence

Spirit of Love, Help us to open ourselves to the needs of others

Spirit of Power, Give us your help and strength

Spirit of God, Present in all places and filling all things, treasury of blessings and giver of life:

Come and dwell in us, be present with us as we meet together in your name.

Amen.
Friend of God?
When reading and/or listening to Luke's Gospel, there is no doubt that 'the spirit of the Lord is upon me to proclaim the good news to the poor.'
Who are the poor? Numerous attempts have been made to find here a referent to the 'spiritually poor' or more recently, to the economically poor. These definitions of the 'poor' are inadequately grounded in ancient Mediterranean culture and the social world of Luke-Acts. In that culture, one's status in a community was not so much a function of economic realities, but depended on a number of elements, including education, gender, family heritage, religious purity, vocation, economics etc. Thus, lack of subsistence might account for one's designation as 'poor', but so might other disadvantaged conditions, and 'poor' would serve as a cipher for those of low status, for those excluded according to normal canons of status honour in the Mediterranean world. Hence, although 'poor' is hardly devoid of economic significance, for Luke this wider meaning of diminished status honour is paramount.
It is evident in Jesus' mission is directed at the 'poor' – not defined merely in subjective, spiritual, or personal, economic terms, but in the holistic sense of those who are for any of a number of socio-religious reasons relegated to positions outside the boundaries of God's people. By directly the Good News to these people, Jesus indicates his refusal to recognise those socially determined boundaries, asserting instead that even these 'outsiders' are the objects of divine grace. God has opened a way for them to belong to God's family.
We see in Jesus the God who is a friend of the 'poop': the marginalised, the weak, the oppressed, the abused, the victims of violence. If we are to be 'friends of God, then we must be friends of the poor.'  (The Gospel of Luke, NICNT)
College Promotions
As we engage fully across all aspects of school life this term, Brigidine continues to not only promote the many positive stories and personnel, but to also highlight the many positive attributes to welcome Years 5 and 6 in 2024. Following these developments either through the College App, the Brigidine College Facebook, or the College Website, I invite all members of our community, past and present to remain engaged with the many College events.
The wonderful Open Morning on Wednesday saw approximately 60 families share in the Brigidine Education on site. Please note that we will also be having our Open Day in April, where we can continue to welcome and showcase our College. Our next key event will be our P&F Parents evening on the Curragh this evening to Welcome all parents to the new school year.
Thank you again for your care and positive support shown to the College Staff as we share the sad loss of Rifki, a valued staff member and as other personnel are managing health issues. Please go gently over the next little while.
Brendan Cahill
Principal 
---
News from our Dean Faith and Formation
A key event in recent weeks was our meeting and conversations with elders, Uncle Joe Kirk and Aunty Sarah Kirk as we created the Aboriginal name for homework club, Mirrabooka (Miringin) as we work towards the creation of an image symbolizing the sistahood of our "Tiddas". (sistergirls). That evening, the elders joined our family community as we gathered with parents and friends along with our students and staff including acting principal, Ms Melissa Dever and acting Dean of Curriculum, Ms Korryn Swindail-Hill as we Acknowledged Country, explored initiatives for the year and shared a meal together.
Apology Day was commemorated with sharing of insights at our morning assembly along with morning notices reflecting on the importance of Apology Day and Sorry Day later in the year.
Finally, our thoughts are with the family of staff member, Rifki Zahir, who sadly passed away last weekend.
Eternal rest grant unto Rifki, O Lord.
And let perpetual light shine upon him.
May he rest in peace.
Amen.
May his soul and the souls of all the faithful departed,
through the mercy of God,
rest in peace.
Amen.
Go gently each day.
Andrew Beiers
Dean of Faith and Formation
---
News from Vinnies club
Valentines Day Fun and Friendship
There was lots going on to spread the love around the school. The Captains introduced 4 "Care Bears" at Assembly. Throughout the day the bears were passed around. When they were in your care you wrote a message on them about an act of kindness you had observed at school. A smile, a helping hand, a good dead.  If we were all kind as often as we can the world would be a happier place.
Pink and heart decorations were in evidence – ribbons, socks, capes and flowers. Pippa Hibbert in Year 8 De Porres House even managed a heart shaped hair do!
Vinnies Heartfelt Bake Sale on Valentines Day February 14
For our second meeting of the year, we ran a bake sale. All the cakes and biscuits were heart shaped, or heart decorated. They looked wonderful and tasted even better. We had over 300 customers and made $548 for St Vincent de Paul. Spreading the love, helping others and being a great team is part of Mission in Action.
Next week we start rehearsing our play about the life of Frederic Ozanam. Ozanam established St Vincent de Paul in 1823 in Paris in response to the great need and poverty he saw on the streets of Paris. An important part of the movement was visitation, not just giving but visiting, offering friendship and solidarity with those in need.
Our play starts in a cafe in Paris with Ozanam and his fellow law student living a life of plenty. Slowly they realize that others are not so lucky. They take inspiration from the life and work of St Vincent de Paul and start helping the poor. Some of our play will be in easy French – so our language students can put their studies to great use. There will be crowd scenes so all our Vinnies members can join in. It is all part of learning about Mission and how we are part of a really worthwhile organization – the St Vincent de Paul Society. Watch this space and we'll invite you to our first night performance!
Gemma Matthews and Caitlin Hanlon 
---
What's Coming Up?
P&F Welcome evening – tonight! 
The Brigidine College Parents and Friends Association (P&F) invites our families to come along to their first social event for 2023.
This is a lovely opportunity to meet new families or catch up with some old friends too.
*Drinks and light refreshments courtesy of the P&F
*Lucy Door Prizes
*Live Music
The Year 12 Formal this Saturday!
Watch this space for great pictures in the next Blog. For now, here is a step back in time. Stuartholme Formal 1973.
Which staff member is this?
---
News from the Director of Sports
Congratulations to the following students on their Representative School Sport selection:
Clove W, Nakarra E, Rosie S and Nixie W(shadow) -13-19 years Metropolitan West Water Polo
Lili S- 17 -19 years Metropolitan West Basketball
Isabella P – 18-19 years Metropolitan West Basketball
Sarah B & Sienna T- 16- 19 years Metropolitan West Netball
Emma Neish – 13-19 years Queensland Triathlon
Term 2 Sport Registration
Term 2 CaSSSA and GBC Sport registration is now open via the Community Portal!  Please refer to the Sport specific Handbook, Term 2 Training Schedule and App notice for detailed information.
Swimming
It was fantastic to see our entire Swimming Squad in the Pool on Wednesday as they continue their preparations for the CaSSSA and GBC Carnivals! The Squad is looking forward to the Swimming Camp to be held on Saturday 25 February and the upcoming Lead Up Meets.
Rebecca Horne
Director of Sports
---
News from our Sports Ambassadors
We've started the year off strong with Term 1 Sport at Brigidine. Our CaSSSA Volleyball, AFL, Indoor Cricket, Rugby 7's and Tennis teams, as well as our GBC Basketball and AFL teams have all shown a huge amount of effort so far. The Interhouse Swimming Carnival was also a great success, with students excited to get back to the Valley Pool for the first time since 2020. It was a great performance by MacKillop House to take out first place, with Chanel coming in second, Damien coming in third, and then De Porres, Delany, and Foley. We were really happy to see all of the effort that everyone put in, and the outstanding level of commitment and spirit shown on the day. Preparations are also underway for the Cross Country Carnival, which is on the last day of Term 1. We are so excited to see what the rest of Term 1 and the year holds for sport at Brigidine!
Kelly Eekhout, Zoe Arnold and Rebecca Sansbury
---
Community News
Catholic School Parents Queensland is hosting an Archdiocese of Brisbane – Parent Council Meeting on March 9. Please click on the Flyer for more information and to RSVP.
Save the date – OLR Jubilee Celebration!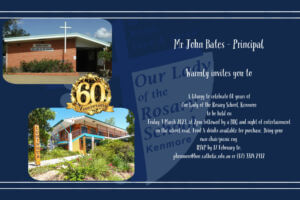 Mr John Bates, Principal of Our Lady of the Rosary School extends an invite to members of the Brigidine College community to join them at a special liturgy to celebrate the school's 60 years anniversary. The liturgy will take place on Friday 3 March at 2pm. This will be followed by a BBQ and night of entertainment on the school oval.
RSVP: pkenmore@bne.catholic.edu.au or 07 3378 2412.
Save the date – Moggill Marathon – 21 May 2022!
The Moggill Marathon 2023 event is shaping up nicely and Early Bird entries are open offering a 10% discount for a limited time only.
In the 5k event, we are offering one prize of $500, for the school or community club with the highest number of entries finishing the race in UNDER 28 minutes.
In the 2k event, we are offering one prize of $250 for the primary school with the most competitors.
It's a great way to get your school active and have something to aim for in 2023. If you can promote this within school communications, newsletters and social media, that would be great. We have attached an image you can use and the link to register is here:
Complete either a half marathon, 10km, 5km or 2km fun run.
The routes will take in the beautiful scenery of the Moggill area, located in the Western Suburbs of Brisbane.
Whether you choose to walk or run, the 
Poolwerx Moggill Marathon,
there is something for everyone. The event will be a huge amount of fun and bring excitement and support for many great causes on the day.