Principal's News
Prayer

New Dreaming

In the silent beauty of the velvet night,

Amidst the glittering Southern Cross,

You Dreamt a new dream.

The promised gift of eternal love for us in the mystery of your son –

A special Spirit Child, lying in a coolamon,

Born of a spirit woman,

Bringing Light and Hope into our world.

Amen

 
Year 12 Graduation
As the College prepares to celebrate with the Year 12 students their graduation from Brigidine, it is always a poignant time to reflect on their journey as well as the time our community has shared throughout 2022. In an overtly positive manner, the Year 12 students have with great passion and effort worked hard, shared challenges and know are well prepared to a bright and hope filled future.
The Graduation Mass, Dinner and Farewell Assembly are wonderful events that truly celebrate the contribution of the Year 12 students have made to our college. The balance between the more formal aspects of graduation, with the celebration at the final assembly, the 'War Cry and the guard of honour are inclusive of all.
Graduating from high school is an important milestone and a 'rite of passage' in a young person's life. As a college within the broader Australian Culture, we reflect tonight on the journey, celebrate the achievements and look forward to the possibilities that lie ahead.
For our young women here at Brigidine, they have been given every opportunity by their families and school to now discover the power of transformational learning. The power of learning lies in:
Hope
Courage
Opportunity
Responsibility
Justice
Action
As relationships are formed and careers develop, decisions will be made for the future. I trust that each Brigidine graduate employs the skills of reflection and discernment, so that they can take charge of the journey to unfold in the future. The strength of young women taking up opportunities when they arise, working hard to create choices and being active in looking towards the future by taking care of the present.
Through academic life, the outreach opportunities, sports days, formal events and a myriad of other opportunities culminating in The Ponytail Project, our Year 12 graduates have embraced experiences, celebrated your giftedness and held onto what is good to be a Brigidine Woman. "You leave and are ready with an open mind, and open heart to take your place in the world."
I wish our Graduating class of 2022 every success and certainly look forward to hearing the many wonderful stories about where life might take you.
Year 12s "Let your light shine before others, so that they may see your good works and give glory to your God on heaven." May you rest in the palm of God's Hand.
Remembrance Day Ceremony – 11 November 2022
Brigidine College and Holy Family students at the Sherwood Indooroopilly RSL.
With Strength and Gentleness.
Brendan Cahill
Principal 
---
News from our Dean of Student Formation
Term 4 is a unique time in the school year, a short but action-packed term. I always enjoy Term 4 as the energy throughout the school changes. Despite as the year draws to a close, we take the opportunity to celebrate all that our students have achieved throughout the year.
Returning to students and parents in attendance at Awards and Acknowledgements evening brought a sense of joy.  As our guest speaker Sachithrani Rajapakse, Graduate of 2013, noted education is so much more than memorising facts and gaining knowledge, education at its heart is the conduit to developing your character. As a community we have witnessed this character and dedication at the Awards and Acknowledgements Evening, Sports Spiritus Awards and Cocurricular Spiritus Awards.
The vibrant life of the College is highlighted throughout Term 4. We look forward to the 2022 Graduation next week, where we acknowledge the contribution that this Year 12 cohort has made to the College.
For the 2023 Year 12 students Regardless of what your endeavours may be, the future is yours to take and to make a difference. Look for opportunities that are there for the taking. On behalf of this community, we sincerely wish you every happiness. When you leave Brigidine next week, celebrate what you have accomplished, but also look forward to how you can be the inspiration for others. To the parents of the class of 2022, who have shown nothing but the greatest support and care for the students. Your involvement and dedication to the Brigidine community is greatly appreciated.
The cycle of students being welcomed into our Brigidine community continues the following week when we welcome the Year 7s for 2023 at their Orientation Day. It is this cycle of celebration, acknowledgement, farewell and welcome that makes Term 4 such an exciting time.
Dani Sprenger
Dean of Student Formation 
---
Our Vinnies Christmas Appeal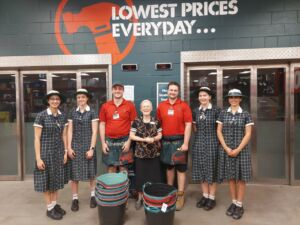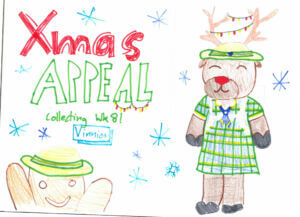 Once again, our school is having a St Vincent de Paul Christmas Appeal. This is a collection of groceries, treats and Christmas fare for families in need. We'll deliver them to the Vinnies Inala Family Centre who then distribute them to families they assist. It is a way for us to help those who are having a tough time. A little from everyone adds up to a lot.
We would like to thank Indooroopilly Bunnings, and their manager Gayleen Tanner, for their support. Once again they have donated 36 containers for us to distribute to Home Rooms. We took them to Home Rooms today and Vinnies members will talk to students about the project.  We'll collect the donations from Home Rooms on Tuesday 22nd November. So, if you can, bring something in and pop it in the baskets.
On November 28th, first week of the holidays, Vinnies members will be having a road trip to take the donations to Inala. This is great fun as we combine it with visiting a few Vinnies op shops and their big warehouse at Middle Park. Learning about the work of the St Vincent de Paul society, meeting volunteers and doing a bit of shopping!
Our Vinnies group is the largest  in the school, across all years. We meet Tuesday lunchtimes, share lunch, guest speakers, plan activities like bake sales, fundraisers, practical projects to help others and much more. Everyone is welcome, you can join at any time. It really is Mission in Action.
by Indiana Tichon, Alvina Savy and Elianne Hamilton
---
News from the Environment Club
How Green is our School?
This week the Environment Club welcomed a guest speaker, Mr Michael Berkman, Greens MP for the state seat of Maiwar. The meeting opened with a prayer and acknowledgement of country by Gemma Matthews and an introduction by Maya Pianta. Mr Berkman responded by commenting that the names of the suburbs in Maiwar derived from First Nation languages. Indooroopilly is gully of worms, Mt Cootha – place of the kuta honey bee, Taringa – place of stones and Toowong – call of the Koel bird.
He then opened the meeting to questions from students. The students had prepared questions, after researching environmental topics on Mr Berkman's website. These topics were raised:
Chloe West: Frequency of busses to Long Pocket and Fig Tree Pocket and the economics of having smaller basses for less populated routes. The economics of transport to the Brisbane airport and proposals to reduce the cost of the airtrain.
Arianne Donaghy: Proposal to light up Mt Cootha at night and consultation with the community and first nations representatives.
Ava Dryden: The reduction of medical waste and how it could be safely disposed of. Ava gave the example of pill testing a festivals and the balance of safety concerns, personal responsibility and the cost of testing with disposable products.
Caitlin McNab: Transgender rights and the dignity of aligning id documents with elected sexual identity. This question did not relate to the environment but was one that had been discussed in the RML subject that Caitlin does in Year 11. It is an issue that is being considered by Queensland Parliament.
These were all "big" topics and Mr Berkman answered them comprehensively. The students really appreciated the opportunity to meet with our local member. Arianne Donaghy and Mr Cahill moved a vote of thanks and the meeting ended with Millie Field, Jess Persich and Tiah Kalaja giving Mr Berkman a tour of the new native garden adjacent to the Curragh.
It was a great meeting, attended by 72 students. A sense of responsibility towards the environment, our common home, is strong in our school.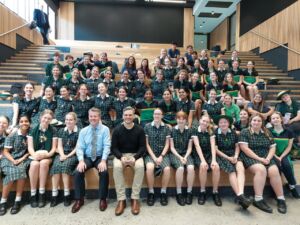 Environment Club with Mr Michael Berkman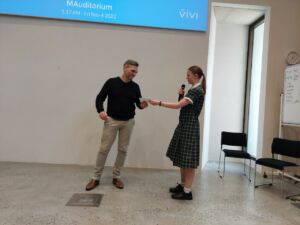 Arianne Donaghy moving a vote of thanks 
---
News from the Sports Department
JPC Independent Schools 7s (**photos in folder)
The JPC Independent School 7s was held on Saturday 5 November.  This was the final competition for the 2022 Rugby 7's season.  Congratulations to our U18 team who were crowned Champions and to our U15 and U13 teams who played their best Rugby of the season!  Thank you to our Coaches Will and Maddie for sharing your knowledge of the game with our students.
Under 13 Rugby Team
Under 15 Rugby Team
Under 18 Rugby Team
Come & Try Tennis
Come & Try Tennis and the 2023 CaSSSA Tennis trials were held on the past two weekends.  It was fantastic to see a number of students participating in this program in preparation for next years season.
LifeTime Tennis will be hosting Clinics during December and January.  Please click on the link below for further information and to register:
https://www.lifetimetennis.com.au/brigidine-college
Term 1 Sport- Registrations Closing Monday 14 November
Registration for Term 1 CaSSSA & GBC Sport is now open via the Community Portal.  The sport Handbooks (which contain all season dates and competition information) and the Term 1 Training Schedule can be found on the College App.
CaSSSA (Wednesday afternoon)
Senior AFL- Year 10 to Year 12
Indoor Cricket- Year 7 to Year 12
Intermediate Volleyball- Year 9 & Year 10
Open Volleyball- Year 11 & Year 12
GBC (Saturday morning)
Junior & Senior AFL- Year 7 to Year 12
Junior, Intermediate & Open Basketball- Year 7 to Year 12
Rebecca Horne
Director of Sports
---
News from the Finance Department
School Fee information for 2023
In 2023 Brigidine College is introducing FACTS, an innovative tuition fee management and payment platform.  FACTS will help families manage costs in a secure, flexible and convenient way.
The new system will allow families to manage their own account payments.
The new online portal will provide the opportunity to establish a payment plan for school fees that suit each family circumstances.  These options will include Direct Debit, Debit Card or Credit Card (a surcharge of 0.9% will apply for credit card payments) on a weekly, fortnightly, monthly, quarterly or annual basis.  The system will also provide more alerts and information to help parents manage their payment plan over time.
More information about FACTS online portal and account registration will be forwarded to all families in the coming weeks.
Non-State Schools Transport Assistance Scheme
The Non State Schools Transport Assistance Scheme provides financial assistance for families transporting students to non-state schools in Queensland. To find out more about eligibility requirements click here: https://www.schooltransport.com.au/
Click on the link to view a short introductory video
---
Community News
Save the date – Moggill Marathon – 21 May 2022!
Complete either a half marathon, 10km, 5km or 2km fun run.
The routes will take in the beautiful scenery of the Moggill area, located in the Western Suburbs of Brisbane.
Whether you choose to walk or run, the 
Poolwerx Moggill Marathon,
there is something for everyone. The event will be a huge amount of fun and bring excitement and support for many great causes on the day.