Principal's News
Kildare Ministries – Foundation Prayer

We are people of listening hearts. We hear the invitation

We cannot cease from journeying, always one pace beyond.

May we like Brigid, Daniel and Nano know the fire within and trust the opening path.

May we hear the ancient blessings breathed into the ears of our hearts as we create the path to journey by a new and different way.

Amen
Student Wellbeing / Formation
While there are challenges regarding the impact of illnesses as we enter the cooler months, it is pleasing to see our students returning to the College and classrooms with a positive energy ready to engage fully with school life.
Attendance is an important aspect of your daughter's participation in college life. Research confirms a strong link between school attendance and student outcomes; higher student attendance at school is associated, on average, with higher student achievement. Regular attendance at school is essential to assist students to maximise their potential. Being present at school is important but the level of engagement with learning in the classroom is equally important.
Students have been reminded of a range of important matters, to continue the fine traditions of dignity and justice for all. Uniforms are changing with blazers being worn from next Monday, hats to be worn at all times, and appropriate PE / Sports uniforms being worn at designated times. As I mentioned to the Year 7 students this morning, how we present ourselves in our uniforms identifies the pride and dignity we want to share with others. I do ask families to assist with the positive ways uniforms present students to the wider community.
Parent-Teacher Interviews
Parent-Teacher interviews were held over the past few weeks, with a wonderful response from families. Using the Online interviews appears to be the preferred option as it brings further flexibility for families. Always contact teachers if there are any further matters regarding your child's learning.
The interviews are an opportunity to discuss each students academic / learning outcomes as well as her learning habits. We encourage students to always attend these interviews with their parents, to be fully engaged in the feedback of their learning. You may be interested in reading the article – Why Students Should Take the Lead in Parent-Teacher Conferences
With the second term now in full swing, I would also remind families and students of the following to maximise their learning:
school attendance can impact on successful learning
be prepared with all materials for learning in each class
complete all tasks and extension work to maximise outcomes
repeatedly ask for assistance in class, outside 'study hall / tutoring' and individual teachers always
reflect on outcomes and look to set realistic goals for future learning
parents to contact teachers for ongoing learning assistance.
Also note, that while the majority of students engage in a positive manner, I have reminded students of two matters linked to health and safety.
Students are reminded that Vaping at Brigidine is against the school rules and if found will be dealt with very seriously.
Students are not to congregate or remain at Indooroopilly Shopping town without a suitable adult. Brigidine students may transfer through the shopping centre for buses and transport, but not congregate in groups.
Community
Year 11 Social Evening
It was wonderful to witness the students being so positively engaged with important college social events for 2022. The Year 11 Social Evening is widely anticipated for many months and it was wonderful to see the students and their guests positively enjoying themselves.
I am very much looking forward to the Mother and Daughter High Tea on Sunday 7 May. Thank you to the Parents and Friends Association for their wonderful organisation regarding this wonderful event. Thank you to Kate Blumke (guest speaker) and Elle Rowbotham (musician). It is wonderful to witness the care and engagement in a range of events.
Happy Mother's Day for next Sunday 14 May 2023.
Fortiter et Sauviter
---
Our Voice
On Thursday 28 April, members of the Mirrabooka Club attended the launch of the book "An Indigenous Voice to Parliament: considering a constitutional bridge" by Fr Frank Brennan SJ AO at St Ignatius Church Toowong.
It was a thrilling event and the church was full, Fr Brennan spoke with passion about the need for all Australians to recognise the need to respect and listen to the voices of First Nation peoples.
Our students did the acknowledgement of country and ran the book sales table. We sold all the books and then helped on the snacks table. It was a rather long event, so the snacks were welcome!
Paris Bosse, Year 12, " I bought a book and Fr Frank autographed it for me, I really look forward to reading it."
Ayesha Wild, Year 12  "I bought a book too and have started to read it in Study."
Katelyn Van Zyl, Year 12 " So many ordinary Australians were there, I was proud to represent the school and my family."
Sade Leon, Year 8 " It was fun to help hand around the food. I've never been to a book launch before. I've told my Home Room all about it."
---
The Best of Nights – Year 11 Social Evening
The year 11 social evening last Friday night will certainly be one to remember for all in attendance! With some quiet convincing persuasion from our passionate year 11 students, we were generously granted period 6 off on Friday afternoon to allow time to glamour up – and glamour up we did! Everyone looked absolutely spectacular in the outfits with such a variety of colour and style and worn with such elan. Even further, the food tasted wonderful – a special mention must be given to the spring rolls that were certainly the crowd favourite! Alongside the lively dancing of both teachers and students alike (particularly to YMCA and the nut bush), there was a photo booth that proved everyone's photogenic side. Everyone agreed however, that the teachers dancing, led by Ms. Cameron, was the best – good enough for them all to join the Bridgettes.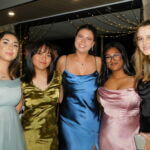 Here is what we heard in the crowd:
"Very impressed that Caitlin Hanlon made her own outfit, including an invisible zip!" Mrs Jeffcoat
"Wow, Lilly Hall was 6 ft 4 in heels" Bridie Ellice (she should come along to netball!)
"Alyra Hopkins dress was vintage, an overlay with red embroidered rosebuds, very Audrey Hepburn." Mrs Kelly Crawford
"The student who wore those wonderful patterned Doc's was probably the only one who didn't have sore feet at the end of the evening". Sarah Konza (My feet were killing me)
Overall, the social evening came to a close much too soon as we all were having so much fun. Nonetheless, we are all excited for what the anticipation of formal will bring next year! Time to start looking for the dress.
Gemma Matthews & Caitlin Hanlon
---
What's Coming Up?
Save the date – Moggill Marathon – 21 May 2023!
The Moggill Marathon 2023 event is shaping up nicely and Early Bird entries are open offering a 10% discount for a limited time only.
In the 5k event, we are offering one prize of $500, for the school or community club with the highest number of entries finishing the race in UNDER 28 minutes.
In the 2k event, we are offering one prize of $250 for the primary school with the most competitors.
It's a great way to get your school active and have something to aim for in 2023. If you can promote this within school communications, newsletters and social media, that would be great. We have attached an image you can use and the link to register is here:
Complete either a half marathon, 10km, 5km or 2km fun run.
The routes will take in the beautiful scenery of the Moggill area, located in the Western Suburbs of Brisbane.
Whether you choose to walk or run, the 
Poolwerx Moggill Marathon,
there is something for everyone. The event will be a huge amount of fun and bring excitement and support for many great causes on the day. For more information, please click on the
Moggill Marathon Poster
.