Principal's News
God of Creation,

Grant us the wisdom to care for the earth and till it.

Help us to act now for the good of future generations and all your creatures.

Help us to become instruments of a new creation,

founded on the covenant of your love.

Amen.
Why an all-girls' school?
As I walk around Brigidine, I can't help but feel a great sense of pride as we watch our students grow, learn and develop into resilient, independent, and competent young women of the future.
Our community is so grateful that you chose Brigidine for your daughter. Choosing an all-girls' school for your daughter has so many benefits, as highlighted recently by the Alliance of Girls' Schools Australasia (AGSA). AGSA's survey across government, independent and Catholic sectors revealed that Australian parents cited confidence, independence, increased opportunities, sports participation, STEM, safety, and academic performance as the leading benefits of choosing a girls' school. A strong interest in girls-only education has driven this shift in increasing enrolments. This is certainly true at Brigidine, as we prepare to welcome Years 5 and 6 in 2024.
We truly believe that an all-girls' environment provides the optimal learning experience for girls, offering enhanced self-confidence, leadership opportunities, and a more conducive and supportive environment for participation in all aspects of school. The significant benefits also include an enhanced focus in the classroom, minimal behavioural concerns, and a safe environment compared to co-educational environments where more attention is often given to male students due to their louder presence in the classroom. This is often cited at Brigidine when students arrive, saying their voices can be heard, and there is a greater sense of connectedness among the community.
At Brigidine, we pride ourselves on being open and supportive, allowing our students to grow, learn and take risks. Positive role models surround our students, inspiring them to reach their full potential. Although our students can experience challenges during their high school years, they experience less bullying and exposure to sexual comments and harassment. The lack of gender stereotyping in girls' schools ensures that girls can explore their identities without the social pressure of boys and are more likely to take subjects or try activities traditionally dominated by boys.
Thank you for believing in Brigidine College.
Thank you for understanding the value and opportunities of an all-girls' environment.
Thank you for walking with us.
Easter – Preparations to receive the Light
In John's Gospel, 8:12, I am the light of the world; the one who follows me will not walk in darkness but will have light and life. The blind man's journeys a path of faith which corresponds to that of every disciple. At the beginning Jesus is for him a 'simple man' (v. 11), then he becomes a 'prophet' (v. 17), and then 'man of God' (vv. 32-33), and in the end, the 'Lord' (v. 38). The last title is the most important. It is the title with which Christians proclaimed their faith. Before coming to be immersed in the water of photisterian (enlightenment), during the solemn ceremony of the Easter vigil, each catechumen declares in front of the whole community: 'I believe that Jesus is Lord' From that moment they are welcomed among 'the enlightened.  Fr Fernando Armellini
St Brigid Pray for Us
Brendan Cahill
Principal 
---
News from our Mission groups
Climate Change Research 
On March 17, our Environment Club welcomed former Brigidine Science teacher Ms Theresa Dixon back to speak to us about her PhD studies at The University of Queensland. Ms Dixon spoke of her research trips to the Kimberly region of Western Australia where she extracted core soil samples dating back 80,000 years. The next step was analysis in the lab to investigate climate change and predict future temperature rise. She emphasised the importance of math and statistics in all research and talked about career options in the environmental field. There were a lot of questions from students and these reflected interest in applying an interest in the environment to many fields of employment.
Eveline Raben and Ava Knox welcomed and thanked Ms Dixon
Ms Dixon's former Home Room students were also there to greet her.
Stamping out Bullying – Orange and Green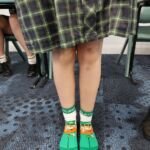 On March 17, the College had activities to promote a culture of kindness at the school and to stamp out bullying. Students were encouraged to wear a splash of orange – the colour of the No Bullying campaign.
However, amongst the orange  there was one student – Tara Bissett – who had remembered that March 17 is St Patricks Day. It is indeed.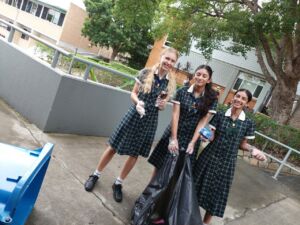 A Blue Bin Team!
Our Environment Club sponsored the blue recycling bins around the school. They collect containers with the recycling arrow symbol on them. This is not a large proportion of rubbish, but it is a start.
Club members empty the bins once a fortnight, remove what is unsuitable and package up the items suitable for collection. It is a messy job, sticky and a bit wet as water gets in at the top of the bins. But, if we want to eliminate rubbish and encourage recycling this is one place to start. Thanks girls.
Eggs on Legs wrap up
Wednesday 29 March was delivery day for our St Vincent de Paul Eggs on Legs fundraiser. Girls gathered before school, picked up the bags – containing close to 500 orders, put on the Vinnies hats and at the bell hopped off.
Thank you to all in the school who got behind this project, who donated eggs, donated cash, ordered eggs and helped to pack and deliver. At the end of the deliveries a Year 7 was heard to say "This is great fun, can we do it every Term?".
---
What's Coming Up?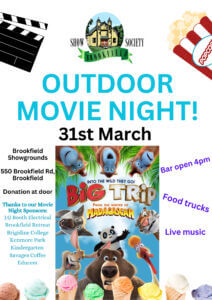 Tonight – 31 March – Family outdoor Movie Night
Celebrate the end of getting through Term 1 at school… with a family friendly MOVIE on the oval!
The Big Trip will be screened after sundown, around 6:30pm.
From the writers of Madagascar comes the story of a goofy stork mistakenly delivering a baby panda to the wrong door. A bear, a moose, a tiger and a rabbit set on an arduous but fun filled adventure through wilderness to return the panda to its rightful home.
Enjoy a bite to eat before the flick: Sorella & Co are serving up their delicious pastas, Chef365 is cooking up a storm with their Chinese inspired dishes, and pizza from Briz Woodfired Pizza. Plus Bubbo Dessert Brisbane are offering unbeatable loaded waffle cones for dessert, icecream from Aaravices and popcorn, fairy floss & more! Adults can enjoy a drink at the Bar and live music bought to you by Holly Terrens.
See you there, all welcome! Entry is via a donation at the door.
1 April – Community Bike ride, Indooroopilly 
Local State Member, Michael Berkman is holding a community bike ride to show local support for safe and separated bike lanes on Lambert Rd. Join them at 8:20 AM, Saturday 1 April for a relaxed ride from Ambrose Treacy College in Indooroopilly to Robertson Park in Taringa. At the park, hear from a few speakers and have a coffee on Michael from coffee cart Aflorabora. People of all ages and confidence levels riding bicycles, scooters, and other micromobility options are welcome. You can ride on the road if you are comfortable, or the footpath if the road doesn't suit you. Feel free to join for just the ride, or just the coffee catchup afterwards. You can find out more and RSVP here.
22 April 2023 – Dreamers Open Day
27 April 2023 – Fr Frank Brennan SJ Book Launch
has recently published a book titled  "
An Indigenous Voice to Parliament – Considering a constitutional bridge
".Fr Brennan will be at St Ignatius Church on
Thursday 27 April
in the evening, to speak on the topic.This a free event—no booking required. All are welcome.Books are available for purchase through St Ignatius Parish at the discounted price of $20 per copy at the event – cash only.
Prior to 27th April
, Order and pay online via parish website, go to
https://rebrand.ly/q9jq49j
For purchase of 5 or more copies please contact the parish office for alternate payment options.Enquiries: email
toowong@bne.catholic.net.au
or phone 3870 7818.
Save the date – Moggill Marathon – 21 May 2022!
The Moggill Marathon 2023 event is shaping up nicely and Early Bird entries are open offering a 10% discount for a limited time only.
In the 5k event, we are offering one prize of $500, for the school or community club with the highest number of entries finishing the race in UNDER 28 minutes.
In the 2k event, we are offering one prize of $250 for the primary school with the most competitors.
It's a great way to get your school active and have something to aim for in 2023. If you can promote this within school communications, newsletters and social media, that would be great. We have attached an image you can use and the link to register is here:
Complete either a half marathon, 10km, 5km or 2km fun run.
The routes will take in the beautiful scenery of the Moggill area, located in the Western Suburbs of Brisbane.
Whether you choose to walk or run, the 
Poolwerx Moggill Marathon,
there is something for everyone. The event will be a huge amount of fun and bring excitement and support for many great causes on the day. For more information, please click on the
Moggill Marathon Poster
.