Principal's News
A Prayer for the Young Women of the World
God, thank you for all the young women in the world. Give them dreams that are bigger than themselves – so they will have to trust you to make their dream come true. Give them a will and heart to be all you created them to be. Help them to work hard and be successful.

Enable them to be generous to those who are less fortunate. Give them hearts full of love and compassion.

Give them the strength to say "no" to activities that they would later be remorseful about – that they would do what is right for them and for the world around them. Help them to be kind to others.

Protect them from people who would harm them physically, emotionally and mentally.

Let them know that allowing You to direct their way is the smartest thing they can do. In Jesus wonderful and powerful name.

Amen     
International Women's Day
For IWD 2023, the global campaign theme is #CrackingtheCode.
We can all challenge gender stereotypes, call out discrimination, draw attention to bias, and seek out inclusion. Collective activism is what drives change. From grassroots action to wide-scale momentum, we can all embrace equity.
And to truly embrace equity, means to deeply believe, value, and seek out difference as a necessary and positive element of life. To embrace equity means to understand the journey required to achieve women's equality and #CracktheCode.
The IWD 2023 campaign theme drives worldwide understanding why Equal opportunities aren't enough!
Learn about the IWD campaign theme here, and consider the difference between equity and equality.
Let's join together at the Brigidine college IWD event on Thursday 9 March, at 5pm in the Brigid Centre.
Principal Notes:
Learning at Brigidine
For more than two hundred years the belief that education has a fundamental role to play in spiritual, personal, social and intellectual development has engaged the imagination and energy of Brigidine women. This has led to involvement in all levels of education, both in teaching and in administration – primary, secondary, tertiary, adult – in the countries in which the Brigidine Sisters work.
With the 'digital age' unfolding everyday with interactive laptops and devices, the use of the Cloud and well as the free exchange of ideas is critical to the engagement of learning across the college. Even as the new devices are rolled out to all students, I continue to be amazed and truly thankful that the staffs at Brigidine are making great strides in changing the face of teaching and learning in our classrooms.
Whilst learning continues to be interactive through a variety of opportunities, we must also remember what truly leads to effective teaching and learning. As we strive to engage with the digital world, the relationships forged at school are the ones that can be directly linked to successful students and effective learning. A strong learning bond between students and their teachers provides for those moments where transformation can take place. The understanding of the mathematical formula, the chemical reactions, the philosophy behind social justice, the ability to critique writings or the creation of a piece of art, are opportunities to share the gift of enlightenment. These can be the times when we understand that learning is for a lifetime.
Brigidine Parents and Friends AGM was held on Wednesday 1st March at 7pm. It will be wonderful to witness the enthusiasm and support this group of parents are able to share with the college. I certainly look forward to welcoming the new P & F Committee as they confirm their plans for the next 12 months. Congratulations to the Committee:
President Darren Van Der Weyer
Vice President TBC
Secretary Mary Matthews
Treasurer Stephen Curtis
The P&F welcome all parents to come together and be involved in College events and social gatherings. Over the next few weeks the College will be inviting parents to:
Come and Meet the Principal (Mornings TBC)
International Women's Day Event 9 March, Brigid Centre
Open Day 23 April
Mother Daughter High Tea 7 May
Schools are busy places and I enjoy the opportunity in sharing with the girls and their families, their active involvement in college life. I encourage parents to remain to contact their daughters Homeroom teachers, their classroom teachers and each other, as we negotiate the year together.
As I return to the College since my illness, I look forward to also engaging in the vast array of activities, sports and cultural events organised and celebrated throughout the college.
Brendan Cahill
Principal 
---
News from our Dean of Student Formation
Congratulations to all Brigidine students, particularly those new to Brigidine for the positive way they have engaged in all that Term 1 has brought so far. It was great to see everyone approaching each school day with a sense of positivity and excitement.
There have been many events and opportunities for students to support each other, develop independence and celebrate with each other including Year 10 Tie Ceremony, Year 12 Retreat, Year 7 Formation Teamwork Day, Year 10 Character Building Formation Day, Year 12 Formal and Year 7 Camp, as well as the day-to-day events of the College.
This year the Formation Leadership team will be focussing on student voice. It is our hope that through formation lessons, student groups such as Students Inspiring Students (SIS), Spirit Squad and Middle School Leadership Program that students will be encouraged to be active contributors to both the College and wider community where students inspire students. We encourage all students to be involved in the opportunities to offer their voice.
Practical reminders as we travel through the term include:
If you are dropping off/picking up your daughter we encourage that this is done on Fairley Street rather than Cecil Street as this is a drop off zone for Holy Family Primary School.
Please check all uniform items are named clearly as there is already a large amount of lost property starting to gather at St Brigid's Student Services.
If students arrive late to school, please make sure that you sign in at St Brigid's Student Services and promptly move to class.
Dani Sprenger
Dean of Student Formation
---
News from our Health and Physical Education Department
Health and Physical Education is well and truly alive in 2023 with the Brigidine Community enjoying HPE Day on Monday 27 February. The day aims to highlight to importance of HPE and the impact on learning potential and wellbeing, the value to all schools and the immense contribution to the wider community.
HPE Day is a day at the College, when we raise awareness of and advocate for, the value of HPE in Australian schools just like ours. The students were treated to a smorgasbord of activities to enjoy across morning tea and lunchtime from dodgeball to Just Dance through to Cornhole and Finski.
The HPE Department encourages you to start a conversation at home about HPE Day or what it is your child is doing in Health and Physical Education. We think you'll be impressed 😉
Kate Nankivell
Leader of Learning – Health and Physical Education
---
News from the Director of Sports
Good luck to the Brigidine College Swimming Team at the CaSSSA Cup Swimming Carnival to be held on Thursday 9 March.  The swimming squad have been working hard in the lead up to this Carnival, attending training, Lead Up Meets and our annual Camp.
Congratulations to our 14 Years Summit Sport Cup Futsal team who won their Round 1 match against Wisdom College 9 goals to 3.  The team will await their Round 2 opposition to be played at the end of Term 1.  Good luck to both our Junior and Senior Futsal teams who will play in the Brisbane Metro School Futsal Titles on Friday 10 March.
Term 2 GBC and CaSSSA Sport registration will close next Friday 10 March.  Please refer to the College App, student notices and Direqt Message sent to all students for detailed information.
CaSSSA (Wednesday afternoon)
Senior Netball- Year 11 & Year 12
Intermediate Netball- Year 9 & Year 10
Junior Volleyball- Year 7 & Year 8
Junior Touch Football- Year 7 & Year 8
Junior & Senior Hockey- Year 7 to Year 12
GBC (Saturday morning)
Junior, Intermediate & Open Football- Year 7 to Year 12
Junior, Intermediate & Open Netball- Year 7 to Year 12
Come & Try Rugby 7's will commence on Monday 6 March.  If you would like to attend but have missed registration, please contact the Sport Department!
Rebecca Horne
Director of Sports
---
Update from our College Captain
As a college we have already celebrated numerous events this term, building community and spirit. On 14 of February, we celebrated Palentine's Day, a day to show gratitude and love towards our friends. 'Carebears' were passed around the college on which students could write the name of someone they are grateful for in order to spread kindness this Palentine's Day. At lunch, we played JustDance and had a themed bakesale that raised over $480 for Vinnies!
Importantly, we marked the beginning of the Lenten season with Shrove Tuesday where we had pancakes for sale, raising over $380. The following day we partook in our Ash Wednesday liturgy, preparing us for this time of reflection and action this Lent.
Abbey Adams
College Captain
---
Update from our Academic Ambassadors
The academic year started off with a bang, celebrating the 2022 semester 2 academic achievements of our fellow students as a College. The celebrations continued with the Graduate's Award Night where we acknowledged the students who excelled academically in Year 12 of 2022.
This year, Academic Council started up again where we planned out our first academic event of the year. We had many fun activities such as throwing pies in teachers faces, recalling digits of pi and a pi relay competition. Our first senior school assembly for the year kicked off with a focus on meditation to help us during the stressful assessment period.
Academic Ambassadors Out.
Deeka Rose and Yang Yang
Academic Ambassadors
---
Mission in Action Update
In exciting news, the eve of Shrovetide brought an influx of donations to make our Shrove Tuesday a successful feast before the beginning of Lent on Ash Wednesday. We received donations of pancakes, maple syrup, and most importantly, sprinkles – not only a day of confession and celebration but also indulgence! Our lovely Vinniettes donned their blue hats and served the never-ending lines with an abundance of energy, leaving smiles on the faces of students and staff alike. Shrove Tuesday's success in raising $382 encapsulated our team's Mission in Action – all because of the terrific support and volunteer work of our Vinnies team! Certainly, a fundraiser that would make Frederic Ozanam proud.
As a reminder of Ozanam's inspirational life and work at St Vincent de Paul, our team's play is coming along swimmingly. Although we have removed some of his French lines in consideration of our non-French audience, the integrity of his beginning in Paris remains. The play is turning out to be a remarkable production that has strengthened our understanding of Mission and the immeasurable support of an organisation like St Vincent de Paul society.
In upcoming weeks along with the performance, we have another bake sale in celebration of International Women's Day on the 8th of March! We will, of course, be selling many amazing treats to honour all of the phenomenal women in our lives. Keep an eye out on the blog for an update on how it goes!
Gemma Matthews and Caitlin Hanlon
---
Oh What a Night! 
Year 12 Formal – 18 February 2023
From the moment the girls arrived on the red carpet to the last song it was a great night. Everyone looked wonderful. The meal was very nice (though a lot of the dates said the desert was a bit small!) and the band had all up and jiving. The most popular dress colour ? red,  texture ? sparkles, shoes? high, make up and nails? lots and long.
The evening started with a welcome prayer from Mission Captain, Indi Tichon and then it was dinner, talking and dancing. Next up is the Year 11 Social Evening in Term 2.
---
What's Coming Up?
Save the date – OLR Jubilee Celebration – Tomorrow – Friday 3 March 2023!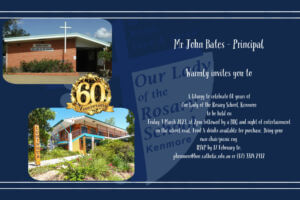 Mr John Bates, Principal of Our Lady of the Rosary School extends an invite to members of the Brigidine College community to join them at a special liturgy to celebrate the school's 60 years anniversary. The liturgy will take place on Friday 3 March at 2pm (tomorrow). This will be followed by a BBQ and night of entertainment on the school oval.
RSVP: pkenmore@bne.catholic.edu.au or 07 3378 2412.
8 March – International Women's Day Movie
Hosted by the Lord Mayor's Community Fund – 7pm, 8 March at Eldorado Cinema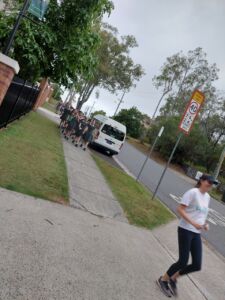 9 March (and every Thursday morning) – Walking for Wellbeing
Why start the day with a worry when you can go for a walk?
Every Thursday, our Walking for Wellbeing sets off at 7am. We take different routes, with a turnaround time of 7.30am. A favourite is the river walk to ATC; or down to Robertson Park for a quick play on the swings. This week we checked out a secret laneway down to the river from Ivy Street then it was up a rather steep hill to get back to school. That's what it's about, exploring the neighbourhood close to school. All years are welcome, and it is a great chance to talk to girls you don't know as we hurry along. Miss Whitney sets a brisk pace to get our heart rates up. You don't need to book to come along – just join us at the pool on Thursdays at 7am and bring a hat.
Dogs are also welcome!
by Holly Bettenay
9 March – Brigidine College's International Women's Day Forum
RSVP by Monday 6 March through the link shared on the College App.
Brigidine College invites our Community to hear from inspirational Guest Speakers and to celebrate International Women's Day.
We are thrilled to welcome back Rhianna Patrick (Class of '94) as our MC.
Please join us from 5 pm for light refreshments followed by our Forum commencing at 6pm.
Thank you again to our Brigidine Parents and Friends Association for supporting this special event.
1 April – Community Bike ride, Indooroopilly 
 Local State Member, Michael Berkman is holding a community bike ride to show local support for safe and separated bike lanes on Lambert Rd. Join them at 8:20 AM, Saturday 1 April for a relaxed ride from Ambrose Treacy College in Indooroopilly to Robertson Park in Taringa. At the park, hear from a few speakers and have a coffee on Michael from coffee cart Aflorabora.People of all ages and confidence levels riding bicycles, scooters, and other micromobility options are welcome. You can ride on the road if you are comfortable, or the footpath if the road doesn't suit you. Feel free to join for just the ride, or just the coffee catchup afterwards. You can find out more and RSVP here.
Save the date – Moggill Marathon – 21 May 2022!
The Moggill Marathon 2023 event is shaping up nicely and Early Bird entries are open offering a 10% discount for a limited time only.
In the 5k event, we are offering one prize of $500, for the school or community club with the highest number of entries finishing the race in UNDER 28 minutes.
In the 2k event, we are offering one prize of $250 for the primary school with the most competitors.
It's a great way to get your school active and have something to aim for in 2023. If you can promote this within school communications, newsletters and social media, that would be great. We have attached an image you can use and the link to register is here:
Complete either a half marathon, 10km, 5km or 2km fun run.
The routes will take in the beautiful scenery of the Moggill area, located in the Western Suburbs of Brisbane.
Whether you choose to walk or run, the 
Poolwerx Moggill Marathon,
there is something for everyone. The event will be a huge amount of fun and bring excitement and support for many great causes on the day.