Principal's News
Prayer

Give us the insight and humility of Jesus,

the wisdom of the Spirit,

the gentleness of God,

and the capacity of our bodies and hearts to have compassion.

Amen
In a reading from Luke's gospel, he refers to Jesus healing a group of Lepers, so that they might be able to re-join their communities. Following their healing, one of the lepers remains behind to thank Jesus. This is even though he is a Samaritan, an outsider to the 'Jewish faith.'
By thanking Jesus, the Samaritan is a witness to the power of Jesus and the power of gratitude. Gratitude is where without reservation we give thanks to others, so that we might grow and engender love for another.
Gratitude is where each of us can unburden ourselves, provide opportunities to share in faith and successes of another or perhaps lighten the weight of things to assist with our mental health. In being grateful, we offer ways to connect closely with others and share something more profound than ourselves or our immediate concerns.
I am grateful to our Brigidine community, for each person brings hope, compassion, courage, faith and love, to the life-giving vocation of education.
The many challenges experienced this year, have also provided an opportunity to walk with others in sorrow, to provide compassion to those impacted by the floods and share in traumas to lighten their load.
To be compassionate is to be actively engaged in reaching out and walking in their shoes so that when ready, they then may be able to return to everyday life.
This where I have been truly grateful to our community.
Awards and Acknowledgement Evening
My sincere thanks and congratulations to all students, staff and parents for your support of our annual Awards and Acknowledgement Evening held last Thursday night. I particularly thank all those who contributed to a very significant occasion for the College, as we came together with joy and gratitude to celebrate as a school community.
With the challenges, there have also been successes, as demonstrated by the outstanding academic results, the mission of engagement and care, the Arts Showcase and the spirit sport brings to the College.
Brigidine College is a beacon of hope for women to embrace their faith and learning.
Our guest speaker, Sachithrani Rajapakse, Senior of 2013, shared her story of education that reflected courage, hope and opportunity, identifying how learning is a life-long journey and inspiring the young women at Brigidine College.
Many thanks to the teachers, students, and assistants who worked so professionally on the evening. With meticulous attention to detail, all guests and participants alike were wonderfully proud of the girls and their accomplishments. A special thank you to Mrs Dani Sprenger, Ms Melissa Dever and Mr Andrew Beiers for their expert organisation and support to the many people involved in producing such a fine event.
World Teacher's Day Friday 28 October 2022
Educators are part of a noble profession where the future is placed in their hands. World Teachers Day today, is an opportunity to celebrate the commitment and drive our teachers have for the students in their care.
The College is blessed with truly great teachers who go beyond the call of duty to provide unending support to the girls. Their professional practice and care for our community has been exemplary and I am proud that Brigidine College continues to have educators who want to educate the future for our country.
World Teachers Day Message from Brigidine College Community
Brendan Cahill
Principal 
---
News from our Deputy Principal

–

Curriculum
Student Achievements 
It was wonderful to celebrate the achievements of all students at the College's Awards and Acknowledgement Evening on the 20th October. It is pleasing to know there are many students who set themselves the goal of achieving at a level of academic excellence or outstanding academic performance. 
The academic awards are based on the evidence provided from all assessment items completed from Term 1 to Term 3. To achieve an academic excellence award, students must demonstrate that they are achieving at an A level across most of their subjects, with no result lower than a B, at the end of Term 3. Students who received awards for outstanding academic performance have achieved at an A level in all the subjects they study, as well as demonstrating a very high level of application and conduct. 
I would particularly like to congratulate the many Year 12 students who achieved awards for a range of academic achievements including: 
Certificate of Individual Achievement

 

100% for all Internal Assessment in Unit 3 & 4

 

Academic Excellence 

Outstanding Academic Performance

 
Overall, their commitment to their studies has been reflected in many outstanding results from a significant number of students. Overall, a 100% result has been achieved 175 times from individual internal assessment. At the end of 3 internal assessment items, 100% has been achieved 19 times, for 13 students, across 12 different subjects. 
2023 Subjects 
All parents and students from Year 7 – 10 will been emailed a confirmation of their 2022 subject allocations in the next few weeks.  Every effort has been made to ensure that most students have been placed in their preferred subjects. However, resourcing, and timetabling restrictions, means that not all students are able to be placed in all of their electives. 
Melissa Dever 
Deputy Principal – Curriculum 
---
News from our Program Leader – Middle Years Teaching and Learning
Transitioning to High School
Moving on to high school is a big deal for primary school students. Our Year 6 students coming to the College for their Orientation Day this term will be excited to experience all Brigidine has to offer. However, they might also be feeling some anxiety, or could even been fearful about the changes ahead.
This blog article is for our transitioning Year 6 students and their families and provides some suggestions for how students can overcome these anxieties and fears.
Diversity in friendships is critical – coming to high school is an opportunity to meet new people and form new groups of friends. Try to be involved in many areas of College life by taking an interest in Home Room, cocurricular activities and extension learning opportunities.
Be aware of your support systems at high school – you will see your Brigidine 'Big Sister' (a Year 10 student) in Home Room each day. The student has volunteered to support your transition to high school by showing you around the College, being there during difficult times, and answering any of your questions. We also have Peer Mentors (Year 11 and 12 students) that support new students during their transition to high school and plan community events for you to participate in. Our College Counsellors are also a great support in the beginning days and throughout the year. They work out of the College's Sophia Centre.
Create a weekly routine – create a weekly routine or schedule that promotes being organised for school and balances work and play. Avoid a crammed schedule in Term 1. Time is needed to celebrate the successes of transitioning to high school and reflect on the challenges. Ensure everyone in the family knows your routine and can help you stick to it.
Set goals – setting and having goals can give us all a sense of purpose, direction, and motivation. Goals can also make us feel good when we achieve them. Set some goals as part of your transition that are important to you. Personal goals could be related to learning, socialising, health, or wellbeing. 
Design your work space at home – create an effective work space at home by using a chair and a flat surface in a quiet space of the home to do homework, study and assessment tasks. Remove all distractions from your work space and ensure school materials and equipment can be stored there. The lighting needs to be bright at night and natural during the day.
Have a 'can do' attitude – A 'can do' person is someone who tackles a challenge or a change head-on. They are confident about their chances of success; they plan how to achieve their goals, bounce back from disappointment, and try again. The 'can do' student perseveres and remains motivated. Develop your 'can do' attitude over the school holidays by trying out new activities and experiences.
We look forward to meeting all Year 7 students of 2023 on 24 November for their Orientation Day and supporting them throughout next year as they transition to high school.
Mrs Niesha Hart
Program Leader – Middle Years Teaching and Learning
---
This Week at Vinnies 
Teresa McGarth, Associate Director of Parish Leadership with the Archdiocese of Brisbane, spoke to our group this week. Teresa graduated from Brigidine in 2002 and told us about her journey through study, work and life. After Uni she had joined the NET – National Evangelisation Team – for a year and she explained how this experience had changed her perspective on the importance of being part of a community. After that she was invited to work with the Archdiocese on their connection with youth and now with their outreach to Parish Councils. It's all about interconnection.
The connection for our students was the reflection on how supportive and "nice" our school is and how their six years at Brigidine are an opportunity to grow in confidence and appreciation of how their gifts can contribute to a civil society.
At the end of her talk Teresa spoke about teachers she remembered from her years at Brigidine and how they had made a difference to her life and approach to learning. She mentioned Mrs Gina Brosnan and Mr Stephen Robinson. Both she said had obviously loved their subject areas, English – and both gave their students every opportunity and encouragement to produce their best work. This Teresa felt, really set her up for success at Uni and at work. The students nodded in agreement.
What's coming up? 
Our Bake sale Friday to contribute to Catholic Mission Week;
The Christmas Appeal and
The Vinnies Road Trip to deliver the groceries and meet the Vinnies Youth team at Middle Park Vinnies.
Mission in Action – Vinnies and the "Prison Bags" by Lilli Schmitt
Vinnies Youth and the St Leonard's Conference have a project to make these bags for men and women released from prison who need an immediate helping hand to get started with life. Every day there are more than 40,000 people in custody across Queensland. There are on average 40 releases every day across the state. Those exiting custody often have limited access to supports and resources. A "blue bag" can be a life line for those leaving custody with very little – it is a symbol of hope and care.
The bags contain "essentials" like a towel, toothbrush, pen and notebook, toiletries and the like. Vinnies contributes a Go Card and Woollies card as well as help with accommodation if needed. The St Leonard's project used to be run by the Sisters of St Joseph but the nuns no longer have the personnel and asked if Vinnies Youth might be able to help.
Last term Veronica Harvey, the Brisbane Youth Engagement & Development Coordinator, spoke to our group about this project and the girls were keen to help. It is good to do practical things together. We circulated a list of items to be donated around Home Rooms and the girls encouraged their friends to participate. Donations rolled in. Friday October 14 was set as the packing day – as this was the last Friday the Year 12's would be at school and they were keen to help too.
22 students came to help after school and we packed 68 bags. There was a production line, then all the items were wrapped tightly in a towel and put into a blue Vinnies bag. It was the same day that the Year 12's did dress ups and the Vinnies ladies were rather surprised to see an Alice in wonderland, our own Alice Conway, Mission Ambassador, a little red riding hood – Leannah Corliss, and a turtle – Charlotte Smith – Mission Captain on the production line.
Thank you all.
"And Jesus said, come follow me and I will make you fishers of men."  
Matthew 4:19
---
News from the Sports Department
Queensland School Sport Track & Field Championships 
Congratulations to Marissa H and Emma N who represented Metropolitan West at the recent Queensland School Sport Track & Field Championships.  Special mention to Marissa who placed 2nd in the 16 years 200m.  Marissa has been selected in the Queensland Team to compete at the School Sport Australia National Championships in Adelaide in December. 
IH Dodgeball 
The annual Inter House Dodgeball Competition was held in Week 2.  There were some thrilling matches and fierce competition between the Houses.  Congratulations to De Porres House who took out the Grand Final.  Thank you to our Sport Captain and Ambassadors and House Prefects for leading this event.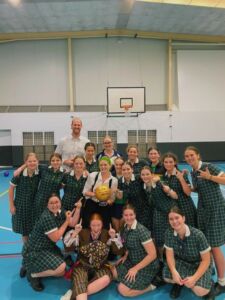 All Schools Rugby 
Unfortunately, All Schools Rugby was cancelled last weekend due to the weather.  Our players are now looking forward to competing at the JPC Independent Schools 7's to be held on Saturday 5 November.  Good luck to our teams! 
Term 1 Sport 
Registration for Term 1 CaSSSA & GBC Sport is now open via the Community Portal.  The sport Handbooks (which contain all season dates and competition information) and the Term 1 Training Schedule can be found on the College App.  Term 1 Sport registration will close on Monday 14 November. 
CaSSSA (Wednesday afternoon) 
Senior AFL- Year 10 to Year 12

 

Indoor Cricket- Year 7 to Year 12

 

Intermediate Volleyball- Year 9 & Year 10

 

Open Volleyball- Year 11 & Year 12

 
GBC (Saturday morning) 
Junior & Senior AFL- Year 7 to Year 12

 

Junior, Intermediate & Open Basketball- Year 7 to Year 12

 
2023 CaSSSA Tennis 
2023 CaSSSA Tennis registration is now open via the Community Portal.  Please ensure you read through the 2023 Tennis Handbook (which contains all season dates) and relevant policies prior to registering. 
Trials 
Juniors (2023 Year 7 & Year 8)- Saturday 5 November, 7:00am to 9:00am at Ambiwerra Tennis Centre

 

Intermediate & Seniors (2023 Year 9 to Year 12)- Saturday 5 November, 9:00am to 11:00am at Ambiwerra Tennis Centre

 
Training 
Training is held at Ambiwerra Tennis Centre and Indooroopilly SHS Tennis Courts

 

Junior, Intermediate & Senior- Monday 6:30am to 8:00am at Ambiwerra Tennis Centre (transport provided to School)

 

Junior- Thursday 6:30am to 8:00am at Indooroopilly SHS Tennis Courts 

 

Intermediate & Senior- Friday 6:30am to 8:00am at Indooroopilly SHS Tennis Courts

 
Fixtures 
CaSSSA Tennis fixtures are held on a Saturday at various locations in Brisbane

 

All Intermediate, Senior & Open fixtures will be played on a home and away basis

 

Junior fixtures will be played at The UQ Sport Tennis Centre (Blair Drive, Saint Lucia)

 

Junior fixtures (dependant on Division) commence at 7:00am or 9:00am

 

Intermediate fixtures commence at 7:00am 

 

Senior and Open fixtures commence at 10:00am

 
Registration will close on Monday 31 October at 5:00pm.
2022 Brigidine College Spiritus Sports Awards
The 2022 Brigidine College Spiritus Sports Awards will be held on Thursday 3 November.  Drinks and nibbles will be held outside the Hall, commencing 5:30pm with the awards ceremony to follow at 6:00pm.
We look forward to celebrating a fantastic year of Sport!
Registration to attend will close on Friday 28 October at 5:00pm.  Please click on the link to register your attendance.  Parents/Guardians, siblings, friends and your support network are all welcome to attend!
Rebecca Horne
Director of Sports
---
News from the Finance Department
School Fee information for 2023
In 2023 Brigidine College is introducing FACTS, an innovative tuition fee management and payment platform.  FACTS will help families manage costs in a secure, flexible and convenient way.
The new system will allow families to manage their own account payments.
The new online portal will provide the opportunity to establish a payment plan for school fees that suit each family circumstances.  These options will include Direct Debit, Debit Card or Credit Card (a surcharge of 0.9% will apply for credit card payments) on a weekly, fortnightly, monthly, quarterly or annual basis.  The system will also provide more alerts and information to help parents manage their payment plan over time.
More information about FACTS online portal and account registration will be forwarded to all families in the coming weeks.
Non-State Schools Transport Assistance Scheme
The Non State Schools Transport Assistance Scheme provides financial assistance for families transporting students to non-state schools in Queensland. To find out more about eligibility requirements click here: https://www.schooltransport.com.au/
Click on the link to view a short introductory video
---
Community News
Members of the Brigidine College community have been invited to visit Our Lady of the Rosary Catholic Parish Primary School for the Blessing of the Foundation stone on Saturday 5 November.
Save the date – Moggill Marathon – 21 May 2022!
Complete either a half marathon, 10km, 5km or 2km fun run.
The routes will take in the beautiful scenery of the Moggill area, located in the Western Suburbs of Brisbane.
Whether you choose to walk or run, the 
Poolwerx Moggill Marathon,
there is something for everyone. The event will be a huge amount of fun and bring excitement and support for many great causes on the day.