Principal's News
God of Compassion, you are our refuge,

You are our comfort and strength in times of sudden disaster, crisis or chaos.

Be with the world community during this time of illness and uncertainty.

Grant us the strength to endure this unforeseeable event.

Hear the prayers of a broken community, for those suffering illnesses and those caring for family members connected to this global pandemic.

May we ask you to hear their distress and grant mercy and relief in our sadness.

We ask this in the name of Jesus, our Lord of peace.

St Brigid, Pray for Us.                                 

Amen
Lent 2023
One of the ways in which we can reach out to others and help end poverty is to donate generously to Project Compassion.  Project Compassion is Caritas Australia's annual Lenten fundraising and awareness-raising appeal which serves to help end poverty, promote justice and uphold dignity.  The work of Caritas Australia is underpinned by Catholic Social Teaching (CST). CST covers all spheres of life – the economic, political, personal and spiritual. Some of the CST principles that guide the work of Caritas Australia are:
Dignity of the human person
Subsidiarity and participation
Solidarity
Preferential option for the poor
"We must regain the conviction that we need one another, that we have a shared responsibility for others and the world, and that being good and decent are worth it."    Pope Francis, Laudato Si
Representing Brigidine College
Over recent weeks the Student Leaders have demonstrated the value and importance of representing the College. Whether it be through interviews, Visitation Tours, excursions, sporting teams or cultural activities, the opportunity to represent the College at any time, is one that many students are excited about and thoroughly enjoy the recognition and sense of achievement. Our community welcome all girls to represent the College with care and pride, so that the benefits for our community touch all of us.  Let's continue to share this pride with grace and responsibility.
Congratulations to all the girls who represented the College at the CaSSSA Swimming Carnivals.  A truly wonderful effort with many girls swimming their personal best and the College improving their overall result.  Congratulations also to the coaches and supporters who were outstanding with their organisation and support of the team.  Congratulations to all sporting teams competing this weekend, especially the Water polo teams in semi-finals.
Come and Meet the Principal
With my disrupted beginning to the year, it was wonderful to finally enjoy the company of Chanel and Delany Year 7 parents for the first 'Meet the Principal' opportunities yesterday. These will continue into Term 2 for all year levels. Please keep a look out for the time to share 'coffee and a muffin.'
One of the key opportunities for parents this year, will be to assist or be part of college activities and events. Early next term, the College Open Day followed by the Mother Daughter High Tea will be fantastic ways for parents to assist the College and/or simply come along and enjoy the events.
It will be wonderful to welcome our parents on site and celebrate the gifts of community with everyone.
Kind regards and blessings to all,
Brendan Cahill
Principal 
---
News from the Middle School
Becoming A Servant Leader
The Year 9 Middle School Leaders Program
At the beginning of Term 1, Year 9 students were invited to participate in a College Middle School Youth Leadership Program founded on the concept of 'servant leadership.' In 2023, 31 students have committed to the program and will be supported through consistent and structured activities that further deepen their knowledge, commitment, and opportunities for action in response to the issues of our Middle School community.
Each Thursday lunch time, the students meet in Foley 9 – a space for critique, voice, hope, and action. Initially, students were educated about the role of a servant leader – a person who is not a hero, but a student that uses their position within the Middle School community to serve others and advance the personal wellbeing of all they lead. As a result, our Year 9 leaders will need to know and understand their community and create opportunities and experiences that allow other students to reach their full potential. Through developing events and activities for Middle School students, our leaders will also find meaning in their own lives, purpose, and priorities that can shape their futures.
Initial discussions have focused on the core values of our Middle School, which the students have decided are inclusivity, courage (acting with integrity), having fun, and engagement. From here, the Middle School Leaders will respond by developing an action plan they will enact over the 2023 school year. I look forward to witnessing their growing confidence and skill development as they share their vision, motivate, manage, and communicate with various members of the College community.
Niesha Hart
Middle School Program Leader
---
News from the Director of Sports
Congratulations to the following students on their Representative School Sport selection:
Millie S- 10- 12 years Metropolitan West Touch Football
Thea H- 13- 15 years Metropolitan West AFL
Lucy C- 16- 19 years Metropolitan West Football
Jessica R- 17- 18 years Metropolitan West Rugby 7's
CaSSSA Swimming 
Congratulations to our CaSSSA Swimming Team on their results at the CaSSSA Cup Swimming Carnival last Thursday!
Please see below notable performances:
Team Results
4th Percentage Cup (5th in 2022)
5th Overall (7th in 2022)
4th 12 years & Under
4th 13 years & Under (missed 3rd place by only 6 points)
Individual Results
2nd– Jess Waites 12 years 50m Freestyle Division 1
2nd– Jess Waites 12 years 50m Backstroke Division 1
3rd– Jess Waites 12 years 50m Breaststroke Division 1
3rd– Lucy Scott 13 years 50m Breaststroke Division 1
3rd– 13 years Freestyle Relay Division 1
3rd– 13 years Medley Relay
1st– Fiona Bentley 12 years 50m Butterfly Division 2
2nd– Fiona Bentley 12 years 50m Freestyle Division 2
2nd– Tara Stafford- Petrie 12 years 50m Freestyle Division 5
2nd– Caitlyn Hudson 13 years 50m Freestyle Division 5
3rd– Isla Stead 13 years 50m Freestyle Division 6
Shout out to:
Mia Alvos – swam in 8 events (we also had a number of students who swam in 7 events)
Emma Neish – was pulled from the warm up pool after we had no one behind the blocks for a 100m Backstroke!
Georgie Drane – late addition to the team due to illness
There were a number of 4th places in our Individual results as well – what a fantastic achievement!!  It was exciting to see so many of our swimmers jump out of the pool to let us know they had swum a PB and also to see students racing at their first Carnival.  Special thank you to Coach Willow, our officials and student helpers who assisted on the day and also to our Year 8 and Year 10 spectators.
International Women's Day Row & Breakfast 
On Sunday 5 March, our Rowers attended the annual International Women's Day Row.  Our rowers enjoyed a breakfast, row and fundraised for RCWRC and AWR initiatives to support women in their development as rowers, coaches, administrators and officials.
2023 Secondary Schools Challenge- Cricket
Registrations are now open for the 2023 Secondary Schools Challenge.  Brigidine College hopes to enter an Open and Intermediate Girls team.  The cost will be approximately $50.00.  Please click on the link below to register your interest in playing by Friday 17 March at 5:00pm.
Open Girls
T20
11 a side
Term 2 (date TBC)
Intermediate Girls (Year 7 to 9)
8 a side modified ball competition
Gala Day- Friday 4 August
uhlsport & ISSA Cup
2023 uhlsport & ISSA Cup Football registration is now open via the Community Portal!
Please see below details:
Competition Information
2023 will be the twenty fourth edition of the uhlsport Cup Girls, the premier under 19 independent schools soccer cup competition in Queensland and the ISSA Cup Girls, a similar competition for under 14 players.  The competition is run by the Independent Soccer Schools Association (ISSA), sanctioned by Football Queensland and is sponsored by uhlsport.
Teams are placed into pools of four or five and a round robin competition is played in Term 2 (day of fixtures is arranged between both Schools and may not be the same day from week to week). The top team or teams from each pool will progress to a knock-out finals series in Term 3.
Training
Training will be held on Monday afternoons from 3:30pm to 5:00pm at Taringa Rovers FC Field 2.  Training will commence on Monday 20 March.
Registration closes on Friday 17 March at 5:00pm.
Rebecca Horne
Director of Sports
---
News from our Mission groups
Environment Club Cleans Up
We had an absolute blast on Friday March 3 – picking up rubbish for Clean Up Australia Day, so many girls came to help out! It was an unexpectedly large turnout, considering it was a bit last minute…But it shows how willing so many Brigidine students are to volunteer, help, and make a change. Clean Up Australia was started by Ian Kiernan in 1989, he wanted to do something simple to clean up his backyard – Sydney Harbour – so he organised a community event to do just that. The event has continued Australia-wide on the first weekend in March.  Through the Environment Club, a few senior students with Ms Jeffcoat wanted to carry on Ian's legacy and organised our own little event, providing rubbish bags, gloves, and plenty of spirit for a Friday afternoon.
Everyone from Years 8-12 attended, providing opportunities for everyone to get to know each other better and grow closer as a cohort. We met at the gate to Cecil street and began to pick up rubbish as we walked towards Keating Park. Even the footpaths to the train station were littered with all sorts of wrappers, papers, and bits of plastic. Keating Park is just across the street from Maccas, so we found plenty of discarded cups, to-go boxes, and even straws. Worse still, Jess and I found a dead possum! It was too difficult to move it, so we called up the council to have it removed – a clear example of mission in action. In case you ever need to know, the number to ring is 3403 8888 Brisbane City Council Dead Animal Collections.
Plenty of other treasures were found, Mr Wilson had accidentally begun to collect all sorts of bird feathers, which some girls hypothesised to be the aftermath of a horrific bird fight. This just goes to show that you can make any task fun and fulfil it with the right mindset. All in all, we managed to clean up the rubbish rather quickly, it didn't take more than half an hour with all the helpers we had. The only thing we really couldn't move was the sofa, why was a sofa in the middle of the park?
We had a good discussion with Mr Wilson afterwards, about how Brigidine girls can see a connection between their actions and how they affect the world and their environment, which is why so many were willing to help us with this cause on such short notice. The power of such a perspective does not go unnoticed, and the Environment Club has already made plans to continue this tradition of cleaning up not only our school, but also the surrounding environment, every week. What action can you take, however small, to clean up your world today?
Gemma Matthews and Caitlin Hanlon
Pii Day – 3.14 !
That was the theme of Pii Day on Tuesday March 14. Never mind about the maths, the accompanying Vinnies Bake Sale gave us yummy sustenance for all the Maths games and competitions that were going on at the Curragh. Special shout out to the cooks who included a maths theme in their cookies.
$300 was raised for St Vincent de Paul. Thank you all.
---
What's Coming Up?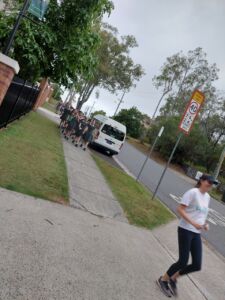 23 March (and every Thursday morning) – Walking for Wellbeing
Why start the day with a worry when you can go for a walk?
Every Thursday, our Walking for Wellbeing sets off at 7am. We take different routes, with a turnaround time of 7.30am. A favourite is the river walk to ATC; or down to Robertson Park for a quick play on the swings. This week we checked out a secret laneway down to the river from Ivy Street then it was up a rather steep hill to get back to school. That's what it's about, exploring the neighbourhood close to school. All years are welcome, and it is a great chance to talk to girls you don't know as we hurry along. Miss Whitney sets a brisk pace to get our heart rates up. You don't need to book to come along – just join us at the pool on Thursdays at 7am and bring a hat.
Dogs are also welcome!
by Holly Bettenay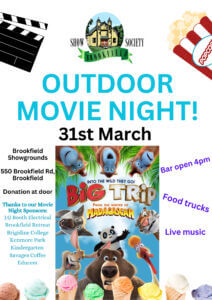 31 March – Family outdoor Movie Night
Celebrate the end of getting through Term 1 at school… with a family friendly MOVIE on the oval!
The Big Trip will be screened after sundown, around 6:30pm.
From the writers of Madagascar comes the story of a goofy stork mistakenly delivering a baby panda to the wrong door. A bear, a moose, a tiger and a rabbit set on an arduous but fun filled adventure through wilderness to return the panda to its rightful home.
Enjoy a bite to eat before the flick: Sorella & Co are serving up their delicious pastas, Chef365 is cooking up a storm with their Chinese inspired dishes, and pizza from Briz Woodfired Pizza. Plus Bubbo Dessert Brisbane are offering unbeatable loaded waffle cones for dessert, icecream from Aaravices and popcorn, fairy floss & more! Adults can enjoy a drink at the Bar and live music bought to you by Holly Terrens.
See you there, all welcome!
Entry is via a donation at the door.
1 April – Community Bike ride, Indooroopilly 
 Local State Member, Michael Berkman is holding a community bike ride to show local support for safe and separated bike lanes on Lambert Rd. Join them at 8:20 AM, Saturday 1 April for a relaxed ride from Ambrose Treacy College in Indooroopilly to Robertson Park in Taringa. At the park, hear from a few speakers and have a coffee on Michael from coffee cart Aflorabora. People of all ages and confidence levels riding bicycles, scooters, and other micromobility options are welcome. You can ride on the road if you are comfortable, or the footpath if the road doesn't suit you. Feel free to join for just the ride, or just the coffee catchup afterwards. You can find out more and RSVP here.
Save the date – Moggill Marathon – 21 May 2022!
The Moggill Marathon 2023 event is shaping up nicely and Early Bird entries are open offering a 10% discount for a limited time only.
In the 5k event, we are offering one prize of $500, for the school or community club with the highest number of entries finishing the race in UNDER 28 minutes.
In the 2k event, we are offering one prize of $250 for the primary school with the most competitors.
It's a great way to get your school active and have something to aim for in 2023. If you can promote this within school communications, newsletters and social media, that would be great. We have attached an image you can use and the link to register is here:
Complete either a half marathon, 10km, 5km or 2km fun run.
The routes will take in the beautiful scenery of the Moggill area, located in the Western Suburbs of Brisbane.
Whether you choose to walk or run, the 
Poolwerx Moggill Marathon,
there is something for everyone. The event will be a huge amount of fun and bring excitement and support for many great causes on the day. For more information, please click on the
Moggill Marathon Poster
.